Suh earns $100K fine, title of NFL's dirtiest player, for disgusting hit
Detroit Lions defensive tackle Ndamukong Suh deserved his $100,000 fine.
He also should have been suspended.
After watching the play on the All-22, it was clearly a filthy, disgusting, dirty play that could have cost Minnesota Vikings center John Sullivan his season and maybe more.
There is no place in the game for that. Suh got off easy.
Here's a look at the play. See if you agree.
As the interception was made, Suh (yellow circle) had his eyes on Sullivan (red circle). You can see that here in the picture below.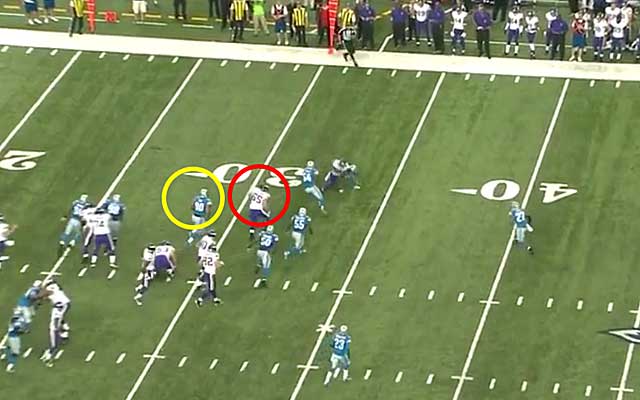 But DeAndre Levy, the man (blue circle) who made the pick, clearly was ahead of Sullivan in the second picture, and the center had no chance to make a play. But Suh didn't stop. He continued to take a bead on Sullivan as you can see and then cut him way behind the play at the knees.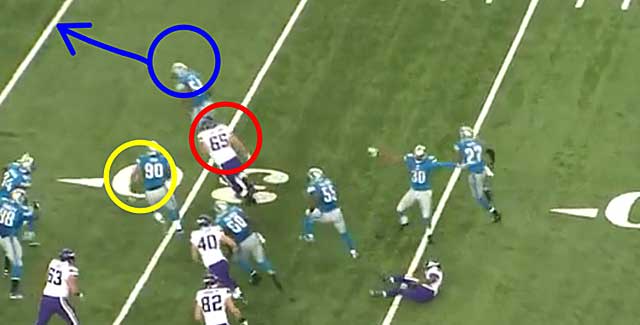 The play is sick in a lot of ways, but mostly because it wasn't necessary. That's the kind of thing players hate. It's why Suh has a tough time shedding his label as a dirty player.
Maybe he needs a new one: The league's dirtiest. He needs to clean up his act. He's too good a player for that stuff.
Anybody have a bar of soap?