2014 NFL free agents: Players each team should chase
More NFL offseason: Mock Drafts | Prospect Rankings | Pro Days | Top free agents
We are a less than week away from the open of the NFL free agency period. And, unlike last year, when fiscal restraint was in play, this one could be a return of the silly season, when teams acted as if they printed money in their facility (Then again, they sort of do).
There is a lot of cap room out there be used up, which should bring a smile to the faces of agents and the players on the market.
On Monday of this week, I did a column detailing the player all 32 teams should bring back from their own free-agency pool of players. Taking care of your own sometimes is the smart way to go.
But for this column, I wanted to look at players each teams should sign from other teams.
I have a different player for all 32 teams because it's impossible for a player to sign with more than one, even though the top players will all have plenty of suitors. I took into account cap situations, so the teams that are tight will have to get bargains, which will be reflected here.
So put on your GM hats and play along -- anger and all:
Brandon Albert, T, Chiefs: He would be pricey, but they need help at left tackle in the worst way. This is a marriage that could be consummated.
Linval Joseph, DT, Giants: They need to get bigger and strong inside and Joseph can do that. He is good against the run.
Evan Dietrich-Smith, C, Packers: They have to get somebody as an upgrade over Gino Gradkowski. Alex Mack is probably not possible now with his transition tag, so they move down the line.
Zach Strief, T, Saints: They had big problems at right tackle with Erik Pears last season. Strief is coming off a good season. He played for Doug Marrone in New Orleans.
Alterraun Verner, CB, Titans: The pass rush covered up their corner issues last season. If they lose Captain Munnerlynn, Verner would be a good replacement.
Michael Bennett, DE, Seahawks: They need help opposite Julius Peppers, if he stays. There's a chance Peppers goes, and then Bennett would be the guy.
Tarrell Brown, CB, 49ers: They have to get younger outside and he's been a solid, if not special, starter. The price could be right.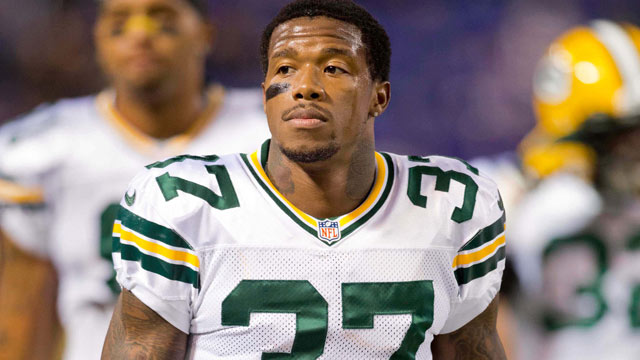 Sam Shields, CB, Packers: He would team with Joe Haden to give them a heck of a 1-2 punch. It would be like Frank Minniefield and Hanford Dixon all over again.
Alex Carrington, DT, Bills: They have little money to spend, so they have to look for bargains. Carrington could be one.
Aqib Talib, CB, Patriots: They could lose Dominique Rodgers-Cromartie and Champ Bailey is getting up in the years. Talib would be a big help.
Emmanuel Sanders, WR, Steelers: They have the big threat outside in Calvin Johnson, but they need a good slot receiver inside. Sanders can be that guy.
Tyson Jackson, DE, Chiefs: They could lose three players off their defensive line. Jackson, a former first-round pick, might be a decent option for a team that doesn't do much in free agency.
Vance Walker, DT, Raiders: They don't have a ton of cap room, so they need to look for bargains. They also need help up front.
Eric Decker, WR, Broncos: They have a speedy small guy in T.Y. Hilton, but need a reliable chain mover. Reggie Wayne is coming off a knee injury, too.
Michael Johnson, DE, Bengals: They have to get help for their pass rush. Johnson didn't get a lot of sacks last season, but he had a lot of pressures. And he's young.
Austin Howard, T, Jets: With Albert gone, they could move Eric Fisher to left tackle and Howard could step in and play right tackle.
Eugene Monroe, T, Ravens: They have to get somebody who can protect the blind side of Ryan Tannehill. Monroe is solid.
Donte Whitner, S, 49ers: They need a veteran player to help their back end. They were beat too many times last season. He can also help in the run game in Mike Zimmer's system.
Daryl Smith, LB, Ravens: They will likely lose Brandon Spikes, and Bill Belichick is known for bringing in veterans for a few years. Smith played well for the Ravens last season.
Jonathan Goodwin, C, 49ers: He left the Saints four years ago, but they could lose their center Brian De La Puente. So bring back Goodwin.
Jon Asamoah, G, Chiefs: They have to get better inside on their offensive line. This is a young player who has talent.
Golden Tate, WR, Seahawks: They get a reliable, steady receiver in free agency if they sign him and they get a speed guy in the draft. Geno Smith needs help.
Vontae Davis, CB, Colts: They have a ton of money to spend and could use an upgrade at corner. Davis is about to be a rich man.
Jairus Byrd, S, Bills: Did you see their problems on the back end last season? Byrd is a ball-hawking safety who would give them star power there.
Kendrick Lewis, S, Chiefs: They don't have any cap room, so signing any players will mean cutting a bunch before the open of free agency. Lewis has been a solid starter, and likely won't cost a ton.
Hakeem Nicks, WR, Giants: This would give them a big target to go with Tavon Austin and Stedman Bailey. Nicks has talent. Jeff Fisher would be good for him.
Trumaine McBride, CB, Giants: They don't have a ton of cap room to go get an elite corner, so they settle for one who played well last season.
Arthur Jones, DE, Ravens: He is coming off his best season and would be a perfect fit in the 49ers' scheme. Justin Smith isn't a kid anymore.
Jared Allen, DE, Vikings: Allen has a few good years left and would be a nice veteran addition if they lose Michael Bennett.
Willie Young, DE, Lions: They need a speed rusher to complement what they have inside. Young won't be super expensive, either
Paul Soliai, DT, Dolphins: They need to get bigger in the middle, especially as they use more 3-4 looks. Soliai is a power run player.
T.J. Ward, S, Browns: They have big problems on the back end last year. Ward would bring some toughness to the unit.