Patrick Peterson has a message for Richard Sherman: I'm the best
More NFL: Photos | Videos & GIFs | Training Camp updates | Manziel watch
GLENDALE, Ariz. -- There were no pockets on his team-issued shorts, but I still made the obligatory big-money joke Wednesday morning that comes with a new contract for Arizona Cardinals cornerback Patrick Peterson.
"Looks like you're carrying some extra weight around in those pockets," I told him.
Peterson played right along. He reached down and acted as if money was falling out of those pockets onto the floor, and then let out a laugh, the carefree laugh of a player who is now the highest-paid at his position.
"Big contract," Peterson said. "Very big."
Peterson signed a five-year contract extension Wednesday for a reported $70 million, with $48 million guaranteed. That deal makes him the highest-paid corner in the history of the league, something Peterson was quick to say several times Wednesday. The deal exceeds the one given to Seattle's Richard Sherman earlier this year, which was important to Peterson -- even if it's just $10,000 more per season.
"It's a big deal," he said about passing Sherman's deal. "I think I've done a lot in my young career to be recognized as not only the best cornerback in the league, and being recognized as the highest-paid cornerback."
There are those shots again. The Sherman-Peterson rivalry is becoming one of the league's best. It features two outstanding corners who think they are the best, and both will say it and preach it even on social media. Corners have taken over from receivers as the league divas.
The Sherman-Peterson Twitter wars are becoming legendary. When Peterson tweeted his deal was done Tuesday night, it didn't take long for the two to get into it.
Peterson tweeted Sherman with this: "Yu mad, bro?" -- borrowing from Sherman's now-famous saying he once aimed at Tom Brady.
Sherman responded with a tweet showing a picture his Super Bowl ring. The caption said: "Can't ever be too mad. Imao…"
So is this real or not? Is it a public charade aimed at trying to get them both more attention? Are they both playing us? Or do they really have disdain for each other?
I asked Peterson about the feud in a 10-minute sit-down interview.
"I don't have a problem with him, I don't have any beef with him," Peterson said. "I think it's a friendly, healthy competition. We're both at the top of our games. We both got huge contracts now. Obviously, he's one up on me right now winning the championship."
The interesting thing is the two would text each other before the supposed feud started earlier this year.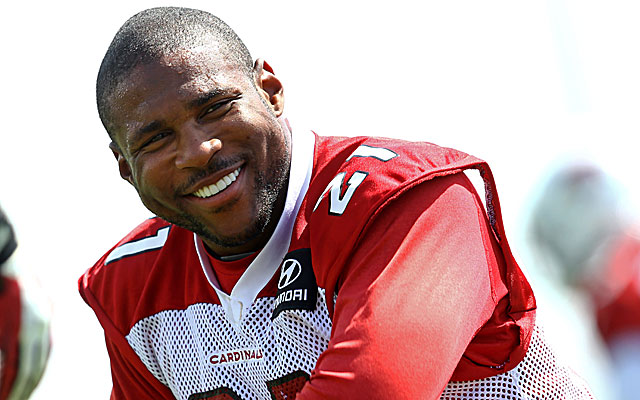 "We stopped texting each other," Peterson said, almost sounding disappointed. 'There are no hard feelings here at all. At the end of the day, some people take things the wrong way. I don't have any problem with him. He might have a different opinion. In my opinion, I think it's a healthy, clean competition between two of the best corners in the league."
Peterson has been to the Pro Bowl three times in his first three seasons, twice as a corner and once as a return man. He was a first-round pick who came in with a lot of fanfare and a big contract.
Sherman was a fifth-round pick, a converted college receiver who barely made the team as a rookie and had to take the hard way to get to his lofty perch among the league's best. He seemingly has a chip as huge as the Space Needle on his shoulder because of it. But Peterson isn't one to just sit back and cede the honor as the league's best to anyone -- and he will fight to claim what he thinks is his.
So I asked him why he's better than Sherman? Off Peterson went.
"I think there's a bunch that goes into being better than him," Peterson said. "I know I am faster than him. I think my technique is better than his. Longer guys have problems just unlocking their hips He has pretty good ball skills as well. I probably just say my versatility. Just moving around. I am not going to just diminish his skill level because he has great skills.
"My versatility sets us apart. As far as going to the left, going to the slot, going to the right, playing a little safety. A lot of corners don't like doing that, like moving around, going to the nickel. Guys understand the slot receiver is the hardest guy to guard. You have to guard every route on the route tree. A lot of guys don't like to do that. Say that on the left, you might go into the game plan saying he runs three routes on the left side. He doesn't have to guard nothing else but three routes. I have to worry about everything. I have to worry about what he does on the left side. I have to worry about what he does on the right side. I have to worry about what he does in the slot. I have to worry about what he does when he motions. There's a lot that goes into covering a No. 1 guys. The versatility sets us apart. Some guys are kind of nervous and their knees buckle when it's time to go inside or go to another side of the field. They're just comfortable on one side. I am able to do it all. I can do pretty much everything."
Peterson moves around in coverage a lot more than Sherman, who is usually lined up on the left side -- in case you couldn't tell by the veiled shots lobbed by Peterson. -- in Seattle's defense. The Seahawks use more Cover-3 looks, which are their favorite, and that leaves Sherman on the left side a lot, while Peterson moves around a lot more to match up with receivers. That's part of why many general managers, players and coaches I talked to earlier this year picked Peterson as the best in the NFL.
That got Peterson going again.
"If you are the best corner in the league, if you go down in history with Deion Sanders, Champ Bailey, the list goes on ... these guys took on the responsibility of taking out the No 1 receiver in the league," he said. "If you claim you are the best, you should guard the best. I understand it may be a scheme, but at the end of the day if you're going to try and claim that title go to the D-coordinator and say, 'I understand we have a scheme here, but I want to take him out of the game.'"
That's not happening with Seattle coming off a Super Bowl title with the scheme they use to help key the league's best defense. But that debate opens up this question: If you put Peterson in Seattle's scheme and Sherman in Arizona's, who would be better? I say it would be Peterson, as did many of the personnel people I talked with in recent months.
That's why the Cardinals were willing to give him the deal they did.
"We couldn't be more pleased to make Patrick the highest-paid player at his position," team president Michael Bidwill said. "And I agree he's the best defensive corner in the league."
Ali-Frazier. Red Sox-Yankees. Manning-Brady. And now it's Peterson-Sherman, only this rivalry is playing out for all to see on social media, the new-age way of stoking it and keeping it alive.
"I am having fun with it," Peterson said. "Sometime he seems like he's getting salty with it. We have our exchanges over the last month or so, and he's still exchanging words. I have no hard feelings toward Richard. I wish him the best. I guess it will be must-watch TV when we play Seattle."
We can hardly wait.