Texans training camp: Texans should be tougher with O'Brien in charge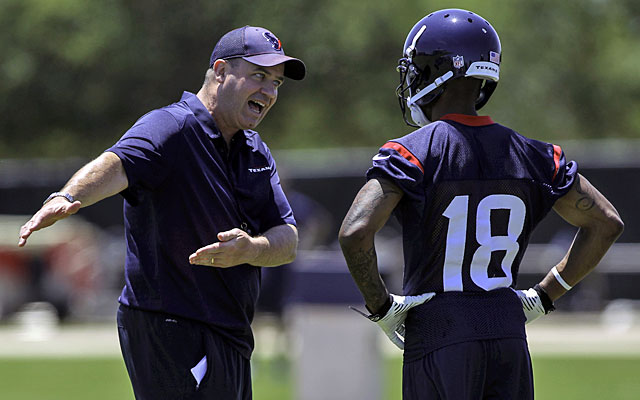 More NFL: Photos | Videos & GIFs | Training Camp updates | Manziel watch
HOUSTON -- Getting a player from the Houston Texans to talk about the 2013 season is darn near impossible.
"That's all behind us," tackle Duane Brown said. "No reason to look back at it."
I get it. When a team loses 14 consecutive games in a season, a team some were pegging to be a Super Bowl contender, it makes sense to keep from looking back. The Texans went 2-14 in 2013, their coach was fired and the culture has changed in a big way with new coach Bill O'Brien.
It's clear it's his way or no way.
There is far more structure now. His rigid ways show up in players running laps for mistakes, running sprints after practice and in dealing with his loud, screaming voice during practices. This isn't Gary Kubiak, that's for sure.
Yet, I get the idea after the 2-14 season, the players aren't complaining. To a man, they said they liked O'Brien's on-field style. Coming from Penn State, via the Bill Belichick tree, he will not waver from how he believes things should be done, which, in a nutshell, is his way.
"It's strict business, man," Texans corner Johnathan Joseph said. "It's all about going in and putting the hard work in and eliminating the distractions outside of football. The moment he hits the practice field and the game field it's all about football. He just wants to see you take what you learn in the classroom and take it out to the practice field and progress."
There's no place to go but up, yet O'Brien faces a tough task with a roster that might not be as good as some thought a year ago.
What to expect on offense: Unlike Kubiak, O'Brien is a big believer in changing things from week to week. He won't just line up and do things the same every game.
He might pound it one week and then throw it a bunch the next week. He uses a lot of formations -- usually featuring two and three tight ends -- to help scheme things open.
With Ryan Fitzpatrick playing quarterback, I would imagine this is an offense that will feature a lot of the short passing game. The best offensive player is receiver Andre Johnson, and he is now in his 12th season, although second-year receiver DeAndre Hopkins could make big strides.
Running back Arian Foster is coming off an injury at running back, while the line has questions. The Texans were 31st in scoring last season, and while I don't think they'll be that bad this season, it would be a shock if they were to rise to the mid-20s. This is a unit that will have to use all of O'Brien's offensive wizardry to score points.
What to expect on defense: A lot of J.J. Watt. New defensive coordinator Romeo Crennel has always used a base 3-4 "Okie" scheme, which would seem to fly in the face of what Watt's strengths are as a player. But Watt can fit into any scheme, and Crennel is smart enough to adjust. They will use a much different 3-4 style than what we've come to expect from Crennel. At least, one would think so to play to Watt's strengths.
Another big part of the defense should be No. 1 overall pick Jadeveon Clowney, who will play outside linebacker. I would think the Texans would use a lot of packages where Watt and Clowney are lined up next to each other.
The linebackers didn't offer much in terms of pass rush last season, but Clowney should change that. They also need to get more from Whitney Mercilus outside. Another key is the health of Brian Cushing, who is coming off a broken leg. He has been limited in camp. The secondary has questions at one corner spot, the nickel position and free safety. That's a lot of issues for a defense that might need to carry this team for much of the season.
What's the personality of this team? It will take on the persona of the coach -- tough, business-like and competitive. O'Brien will instill that in a team that needs and wants that. They will be better offensively because of him, and the addition of Clowney will improve the defense. In Watt, O'Brien has the perfect player to carry out his plan.
Watt loves the game. That shows up on the practice field, in the meeting rooms and in the weight room.
Players follow his example, which is as glowing as any star in the league.
"First and foremost, I'm always trying to lead by example," Watt said. "I'm going to go out here and try to do things the right way, try and show the guys that I'm all-in. Obviously, with a lot of the young guys, I'm a little bit older now -- I'm 25, so I'm a little bit older -- I'm trying to help them as much as I can. I'm telling them little tips, just some of the little things: how to be a pro off the field, how to take care of your body, how to take care of your business. And then on the field, little tricks, little tips that I've learned through my few years. (I'm) doing as much as I can. Just getting in guys' ears and letting them know what they can do to be a better player."
The early buzz: You can certainly see that this is a team that will be much different than in years past. Some league personnel men considered the Texans a soft team, even with Watt. But that won't be the case with O'Brien running things. His voice is being heard.
"I love it," Johnson said of O'Brien's style. "It's great. I think it's something that was needed around this place. I'm excited about it."
Outlook: Where are the stars on offense? That's a problem. I think that will show up on a weekly basis. Drafting Clowney was a smart move with the first pick, but why wait until the fourth round to address the quarterback position? Let's be real: If O'Brien could have Christian Hackenburg, his Penn State quarterback, right now, he'd be better off. Fitzpatrick isn't the answer. Foster isn't a kid anymore either, so that could impact the running game. On defense, Watt will be dominant again and Clowney will make an impact. But there isn't enough yet around them. This is a team that is another offseason away from competing for a playoff berth. Give O'Brien time. It will come. He's too good a coach, even if he is a bit too rigid at times.