Report: Dwight Howard, Chris Paul plotted to play together for two years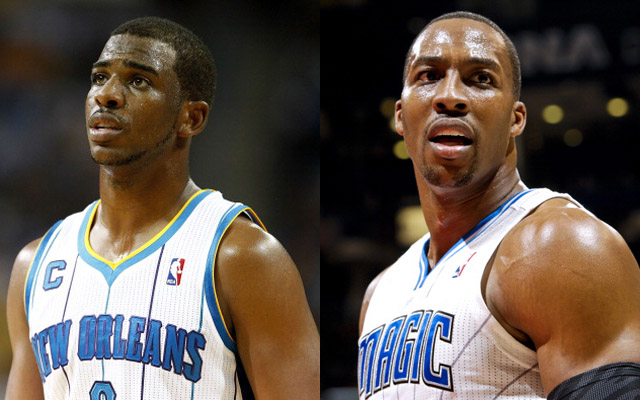 What could have been.
(Getty Images)
In shocking news, a superstar player wanted to play with another superstar player and they were talking about it, even as their teams were both contenders in their conferece.
Yahoo Sports brought in a surisingly unsurprising piece about Dwight Howard and Chris Paul, who had started scheming to play together even while under contract... as far back as 2009.
Starting in 2009, Howard and Paul began chatting regularly, trying to figure out a way to play together. Howard tried to convince Paul to join him with the Orlando Magic. Paul responded, one source said, with a question: "What will you be giving up?" While Orlando was relatively close to Paul's hometown of Winston Salem, N.C., and had advanced to the 2009 NBA Finals, Paul preferred Howard join him on the New Orleans Hornets roster. When neither Howard nor Paul seemed interested in playing for the others team, they considered looking for a common destination.

"I tried to get him to come to New Orleans," Paul told Yahoo! Sports. "It was back and forth, here and there."

Sources close to both players said Howard and Paul settled on the Dallas Mavericks as an ideal destination, knowing owner Mark Cuban had the means to clear salary-cap space for them. The Mavericks explored trades for both players, but didn't have attractive enough assets to make a deal. And while Howard and Paul could have become unrestricted free agents in the summer of 2012 by opting out of their contracts, neither exhibited the patience to make such a plan feasible.

Paul was all in for joining the Mavericks as a free agent in 2012, but he wanted a commitment Howard also had interest, sources said. Howard, however, remained indecisive about his future in Orlando and wasn't ready to commit to Paul.
(via What stopped Dwight Howard and Chris Paul from playing together as Dallas Mavericks? - Yahoo! Sports)
Lots to consider here, so let's break it down into bullets.
In 2009 the Magic and Hornets went a combined 108-56. The Hornets made the playoffs and lost to the Nuggets in the first round while the Magic went to the Finals. Let me say that again. The Magic went to the NBA Finals. And yet these two were playing chatty Cathy about teaming up. That's pretty disgusting. You can say all you want about the difference between playoff teams and title teams, but the truth is that they were both in the hunt. Adding Howard to Paul and David West? Adding Chris Paul to Howard and at the time a still very dangerous Rashard Lewis? Winning wasn't enough for either one. Location mattered.
The article goes on to talk about how Howard waffled and that's what led Paul to move on to Los Angeles, and how Howard never wanted to play there, saying he didn't feel he would fit with Blake Griffin. Which is pretty nuts. They could both run the pick and roll and then clean up the mess. That sounds like a star-power concern, and that's not a good look. Meanwhile, Howard essentially chose Deron Williams over Chris Paul, which is also not a good look.
Dallas continues to be the "almost but not quite" destination for superstars, and it leaves them both in the running for Paul and Howard in 2013 should their stints with ther respective teams go catastrophically wrong, and still huge underdogs despite being really the only other team on the board.
You really have to examine this as Howard having somehow having found a way to make the past two years, which were pretty awful from a perception standpoint, worse. Howard comes across as indecisive, and that indecision cost him a chance at a title-worthy team with upside. The Lakers should be great, but their window will be much shorter than what he would have had otherwise. CP3 is not exempt either, as both essentially made it clear that the destination had to be a big market, not the best basketball team. This is the enduring fact of all these superstar deals. You can say it's about winning, you can say it's about whatever you want, but it's about the market and the money that comes with it. That much is clear.
Talk all you want about how the Magic and Hornets failed to pull in star-studded contending teams around them (again, Orlando went to the Finals), but how are they supposed to when their stars are talking to other stars about playing somewhere else? How do you build a title contender when your best players, who you have committed so many resources to developing and building around, aren't invested in your future, aren't committed to you? No one thinks Tim Duncan's going to bolt outside of the brief flirtation with Orlando. They have security. These other teams? They're starting with too big a hadicap.
Again, really glad we had a lockout that in no way cleared this up, but helped the owners make more money while keeping these issues intact to give them an excuse to lock out the players again in four years.