Mavericks sign Troy Murphy, waive Eddy Curry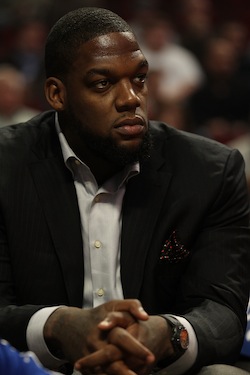 Eddy Curry is already done in Dallas. (Getty Images)
And just like that, Dallas is done with Eddy Curry.
The Mavericks waived Curry to make room for newly signed forward Troy Murphy, the team announced Friday.
The Mavs have reached a one-year agreement to sign Murphy. Dallas already has 15 players on the roster after signing Curry, forcing them to waive out-of-favor guard Delonte West, meaning they will have to make a transaction to make room for Murphy. And that person ended up being Curry.
The Mavs had previously been shopping third-year guard Dominique Jones, but obviously they couldn't find a taker.
Curry appeared in only one game for the Mavs, scoring nine points and grabbing four boards. If he doesn't play another game this season, those are his highest season averages since the 2007-08 season. Put that on a resume, Eddy!
It's pretty clear Curry has restored some semblance of his past abilities, but he was lacking enough that the Mavs weren't keen on keeping him when they're very thin inside. Chances are, though, someone else is going to be giving Curry another shot.
Murphy, 32, spent last season with the Lakers, appearing in 59 games. He's a solid outside shooter and a capable stretch for a team searching for depth. Which is exactly what the Mavs are after, especially with Dirk Nowitzki recovering from a knee injury.