Phil Jackson releases statement, calls Lakers handling of the situation 'slimy'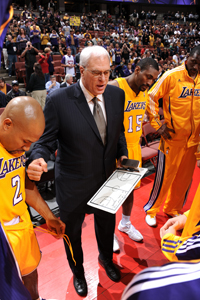 Phil Jackson didn't like his midnight wake-up call from the Lakers.
(Getty Images)
Phil Jackson's phone rang around midnight Sunday night with shocking news.
He wasn't going to be the next head coach of the Los Angeles Lakers.
It was a move that not only reportedly "stunned" Jackson, but surprised pretty much everyone following the story, including the person picked for the job, Mike D'Antoni.
On Tuesday as the dust settled a bit, Jackson released a statement about the situation. Via the O.C. Register:
"Saturday morning, Jim Buss, called to ask if he could come and visit. I did not solicit or ask for the opportunity, but I welcomed both he and Mitch Kupchak into my home to discuss the possibility of my return to the Lakers as the head coach. We talked for over an hour and a half.

No contractual terms were discussed and we concluded with a hand shake and an understanding that I would have until Monday (today) to come back to them with my decision. I did convey to them that I did have the confidence that I could do the job.

I was awakened at midnight on Sunday by a phone call from Mitch Kupchak. He told me that the Lakers had signed Mike D'Antoni to a 3-year agreement and that they felt he was the best coach for the team. The decision is of course theirs to make. I am gratified by the groundswell of support from the Laker Fans who endorsed my return and it is the principal reason why I considered the possibility."
Obviously Jackson is trying to take the high road here, but he has to feel a bit jilted about this. Specifically mentioning the midnight phone call is a pretty clear tell. Actually, he had more to say about that, via the L.A. Times:
"It could've been much more circumspect and respectful of everybody involved," Jackson said. "It seemed slimy to be awoken with this kind of news."
Why didn't the Lakers go with Jackson? Why did the completely stiff their former legendary coach? Multiple reports indicate that Jackson was looking for full control of the team, veto ability on roster decisions and special travel arrangements.
He told the L.A. Times there's no truth to him wanting front office power. "There's nothing about that," he said.
There may have been something to it, but it doesn't sound like the Lakers and Jackson ever reached a point of actually negotiating a contract. So while the Lakers may have assumed that Jackson would want a massive contract and a bunch of control, it wasn't like they were bargaining.
Here's what Jackson's agent Todd Musberger told ESPNLA.com:
"There were no demands, outrageous or otherwise ... To say that he wanted control or that he wanted a zillion dollars or that he wanted equity, those were not topics discussed ... If the Lakers didn't spread those things, the fact they didn't take affirmative stance to correct the record is very troublesome."
Who knows where the breakdown came from. Whether it was from the Lakers trying to make a power move and send a message to Jackson, whether it was something lost in translation or whether feelings have just been hurt, the bottom line is that Mike D'Antoni got the job and Phil Jackson didn't.
The situation may have been handled poorly for sure, but then again, the Lakers just fired their coach after five games. What did you expect?