Report: Raptors F Andrea Bargnani unlikely to be traded until summer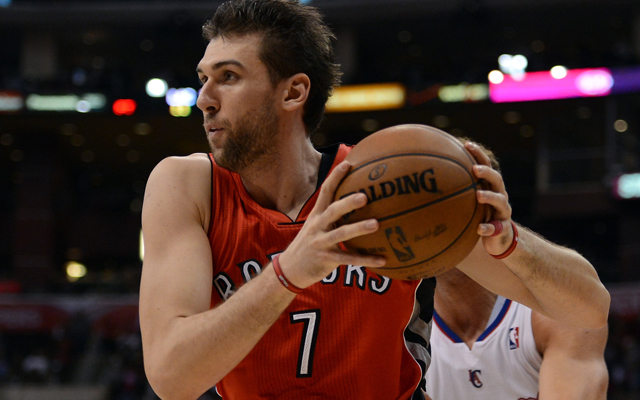 Will Bargnani stay the season?
(Getty Images)
The Toronto Star reports Raptors F Andrea Bargnani, long-thought to be available for anyone with any significant offer, is unlikely to be moved before Thursday's trade deadline.
Word from the executives I talked to over the weekend here and by electronic methods all suggested there's not an awful lot of trade activity percolating right now, which we all know can change at the drop of a hat.

The big one, of course, is Bargnani, and one note I got this weekend simply said:

"Looks like the summer."

Now, I know Bryan [Colangelo] pretty well, and I would say he'll do something small this week. It's like second nature to him to make a deadline-week deal just to be in the fray.

But, at this minute, there's nothing serious going on for anyone, which is good since I have an hour of work and then a three-hour flight to deal with.
The news is somewhat surprising giving how desperate Colangelo has been to move Bargnani, going as far as openly discussing the efforts on NBATV. A report on Friday indicated the Raptors could trade him in a combination package for the Bulls' Carlos Boozer "whenever" they wanted.
But Bargnani's trade value is at an all-time low after a regression to pitiful rebounding and defensive numbers along with an unexpected offensive slide, as well as an injury issue, his second major injury problem in two years. The market simply might not be out there for an overpaid power forward who can't shoot.
That said, we're not taking him off the list of players likely to be traded at the deadline just yet.
The NBA trade deadline is Thursday at 3 p.m. ET.