Ryan Suter, Predators to begin renegotiations this week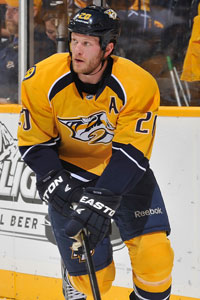 Suter is coming off a career high in points and minutes per game. (Getty Images)
Leading up to this summer on the free-agent scene in the NHL there figure to be two names that will dominate the market. Zach Parise of the Devils and Ryan Suter of the Predators. When it comes to unrestricted free agents, those are the big fish.
While the news on Parise remains on the backburner for good reason as the Devils are preparing to play for Lord Stanley's Cup, Suter has been sitting back for a few weeks now since the Predators were eliminated. That was by design. His agent wanted him to take some time away from everything and cool down. That has come and gone.
Now it's time for things to heat up.
Obviously, Suter can't negotiate with any of the other teams in the NHL until July 1 when free agency opens up, but as of now he's still a member of the Predators and they can talk to each other until they're blue in the face. The primary question with Suter all along has been how much of a shot do the Predators have in keeping him and how seriously would he consider staying in Nashville?
Well, we're about to find out. From Joshua Cooper of the Tennessean:
Predators General Manager David Poile has said in the past that he would like an indication from Ryan Suter on his unrestricted free agent intentions by early June. It appears he may get one soon. According to Suter's agent, Neil Sheehy, some discussions are set to take place between Nashville and the All-Star defenseman in the coming days.

"David and I plan on talking sometime this week," Sheehy said.
The big question for some time was whether or not the Predators -- who usually don't spend too much on payroll -- could afford to keep Suter. They say they can offer him good money, and they have shown with back-to-back losses in the second round of the playoffs that they probably aren't too far away from having a real shot to win.
It's entirely possible Suter will decide to stay in Smashville and never even hit the open market. We'll find out in the coming weeks if that happens or not. But if you're a Predators fan, this is encouraging news that Suter and his agent are going to open their ears to the Predators.
Other teams are going to be busy preparing for the draft and their offseason plans, but you can rest assured that all other 29 teams are going to be monitoring what's happening in Nashville.
For more hockey news, rumors and analysis, follow @EyeOnHockey and @BrianStubitsNHL on Twitter and like us on Facebook.