KHL team could be targeting Alexander Radulov and Alexander Semin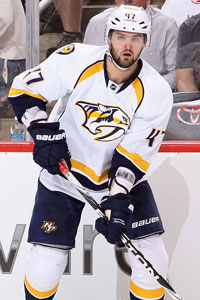 Nearly every time a high-profile Russian player hits the free agent market (or is about to hit the free agent market) rumors start to fly that the KHL will be after him.
This offseason will be no different.
The subjects this time around:
Alexander Radulov
,
Alexander Semin
, and the "filthy rich" CSKA Moscow team that is currently being run by former NHL great Sergei Fedorov.
According to Peter Adler of the
Edmonton Journal
, CSKA, which is now sponsored by one of Russia's biggest (and richest) oil companies, has given Fedorov the green light
to go after the best players he can bring over to the KHL in an effort to win a championship
.
That list starts this offseason with Radulov and Semin.
The Nashville
Predators
have already made it known that they will not be bringing Radulov back next season
and are willing to trade his free agent rights to another team
.
Semin also seems destined to hit the open market when July 1 rolls around.
2012 NHL Free Agency
More NHL coverage
Along with New Jersey's Zach Parise and Nashville defenseman
Ryan Suter
, they are the best players that could be available this summer in free agency.
Before returning to Nashville late in the season, Raduov had spent parts of four years playing in the KHL and was one of the best players in the league. Semin, if he should choose to leave the NHL for Russia, would be the only other high-profile player other than Radulov to make the jump during what could be considered the prime of his career. Other players that left for the KHL, like Jaromir Jagr, Sergei Zubov, and Fedorov himself all went over toward the end of their careers.
The question is whether or not Semin has an interest in leaving the NHL at this point.
Writes Adler
...
Semin will be a free agent as of July 1. His agent, Mark Gandler, has repeatedly shot down news of Semin's return to Russia but I wouldn't take that to the bank if I were an NHL team.

The issue is simple: most European players employ different agents to handle their European affairs. More often than not, they choose not to share the details of the European dealings with their North American representatives.

Gandler has repeatedly said Semin would like to have better guarantees of regular playing time in all situations, something, he contends, the player has never got from the Washington Capitals. Gandler has gone so far as to suggest Semin will not be returning to the Capitals, period.
If I had to guess at this point -- and this is just a guess -- I'd say that Radulov would probably be the more likely of the two to head back over.
Both players, and especially Semin, have their share of critics in North America, but I think often times they're a bit over the top and a team that needs difference-makers on offense would be wise to recognize what they can bring on the ice.
For more hockey news, rumors and analysis, follow @EyeOnHockey and @agretz on Twitter and like us on Facebook.