Watch Dustin Brown's sons enjoy chocolate milk in the Stanley Cup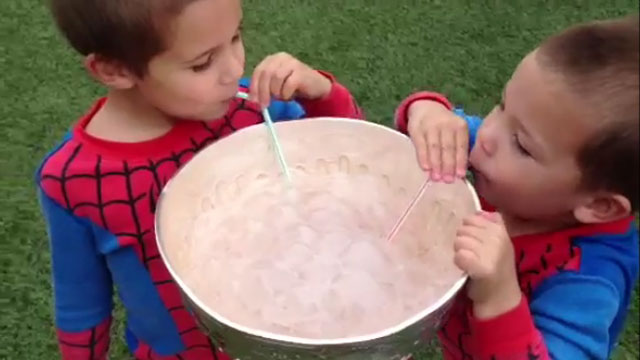 Yummmm. (Screenshot, L.A. Times video)
There are so many reasons why the Stanley Cup is pretty much universally accepted as the best trophy to win in sports. In addition to looking the best it has some pretty cool traditions that come with it, lots of history and all the players get their names inscribed. Oh, and you can drink out of it.
Instead of just sitting inside a trophy case at the team facility, the Cup spends days with players and personnel. Each gets their own day to spend with the Cup and when you're the captain like Dustin Brown is for the Kings, you get some extra time with the Cup, like the morning after winning it.
The great chalice was found in Brown's backyard on the morning after the win with his Spider-man-pajama-clad sons drinking chocolate milk from the bowl. Well OK, more like blowing chocolate milk bubbles through straws.
I don't know what part of that is the best ... the matching Spider-man outfits, the giggling of the kids or the simple fact that kids are drinking chocolate milk from a major sports championship trophy.
I just hope the Cup got a thorough cleaning before the milk went in. I'd say it's a safe bet there were some other liquids in the chalice a few hours before.
And on a slightly more serious note ... how many bottles of milk did it take to fill up the Cup?
For more hockey news, rumors and analysis, follow @EyeOnHockey and @BrianStubitsNHL on Twitter and like us on Facebook.