NHL referee Stephane Auger announces his retirement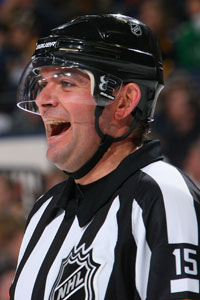 Auger has a laugh. (Getty Images)
In news that is sure to upset Alex Burrows of the Vancouver Canucks, referee Stephane Auger announced his retirement from the NHL on Friday.
He spent 13 years refereeing the game at the highest level in hockey. But now he wants to get back and spend time with his family, he explained in the press release.
"After 13 exciting years as an official for the National Hockey League, I have made the difficult decision to retire from this position in order to take a more active role in the growth of my three young children," said Auger. "Time away from home during their adolescent years has become more and more difficult each season. Being closer to home will enable me to help my wife, Josée, and allow me to be a more present dad.
"I would like to thank the NHL for allowing me to realize a childhood dream. The League and its officials have provided me with many fantastic memories that I will forever cherish."
Unfortunately for Auger, he leaves with not the most stellar of reputations in the league. I admit to not knowing all of the refs the league has, but I know of Auger. The guy has been that notorious in his role for the NHL. Any time I was at a game and Auger was on the list as the referee, I invariably heard some form of groan from the other people in the press box.
Put another way, in the 13 years he was an NHL ref, Auger only did 10 playoff games. That is probably a good indication of things there.
Of course the most notorious incident came with a Canucks and Predators game two years ago. In the third period Auger called Burrows for diving on a play in a tie game. The Canucks would go on to lose in no small thanks to the call on Burrows.
First, the play.
That didn't sit too well with Burrows one bit. In a rare spectacle in the NHL, he unleashed all of his thoughts on the referee.
Needless to say, Burrows probably isn't shedding any tears today at the announcement from Auger.
For more hockey news, rumors and analysis, follow @EyeOnHockey and @BrianStubitsNHL on Twitter and like us on Facebook.