Joe Sakic, Mats Sundin, Adam Oates, Pavel Bure make up 2012 Hall of Fame class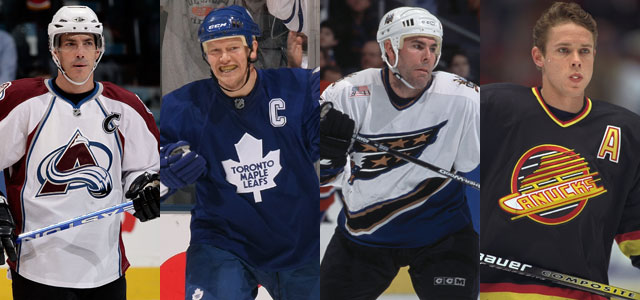 Sakic, Sundin, Oates and Bure get the nod. (Getty Images)
The Hockey Hall of Fame announced their Class of 2012 on Tuesday and like any and every class, it's full of superstars.
Joe Sakic, in his first year on the ballot, was guarantee. He is joined in the class by another first-ballot guy in Mats Sundin then hold-over candidates Pavel Bure and Adam Oates. In the case of the last two, it's an overdue recognition for them. Both had tremendous cases and waited longer than they probably should have.
As mentioned, Sakic was a stone-cold lock for the Hall.
"To be placed in the Hall of Fame, it really is a dream come true," the former Avs captain said.
He played his entire career with the franchise that drafted him, the Nordiques-turned-Avalanche. His awesome career concluded in 2008-09 with 625 goals and 1,016 assists in 1,378 games. He was a 12-time All-Star, won each of the Hart Trophy, Conn Smythe Trophy, Lady Byng and Ted Lindsay Award and, for those that take this into account, won two Stanley Cups. His 1,641 points are good enough for ninth all time, directly ahead of Phil Esposito.
Sundin played the majority of his career with the Maple Leafs, the rest of it split between the Nordiques and the Canucks to end his career. He was for many years the star player in Toronto, being named an All-Star eight times in his career. He never won any trophies -- including the Stanley Cup -- but was excellent throughout his career. The guy's only fault was that he wouldn't leave Toronto when all the fans wanted him to ... to get value for him. He was loyal to Toronto to a fault. Still his 1,349 career points in 1,346 games check in at 25th most in NHL history.
Then there are the hold-overs. For Oates it must be one heck of a day. The former center for six teams through his career was named coach of the Washington Capitals -- one of those former teams -- earlier on Tuesday. You have to wonder how long it took the people from the Hall to get through to his phone for the good news.
"It's a special day for me and my family," Oates understatedly put it. "I've got to go out and play lotto, I think."
His career ended in 2003-04, which shows you how long he has been waiting, included some pretty impressive offensive numbers. He wasn't exactly known for the goal-scoring, but instead was an assist machine. The five-time All-Star led the league in assists three times and finished with 1,079. His 1,420 points are 16th most ever.
Lastly you have Bure. The knock on him was that he didn't have the longevity in his career, which ended at age 31. Still, despite playing just 702 career games, Bure finished with 437 goals in his career. He won the Calder Trophy as Rookie of the Year in 1991-92 with the Canucks and then reached the 60-goal plateau in his second and third years in the league. He eventually was traded to the Panthers and saw an uptick in his numbers again, lighting the lamp 58 times in 1999-2000 and 59 in 2000-01. That was in a dead era in the NHL, mind you. The six-time All-Star won the Rocket Richard Trophy for those two seasons. His 0.623 goals per game is the fifth-highest mark in NHL history.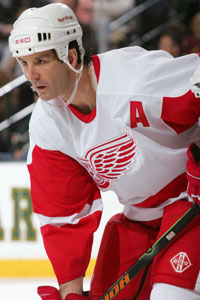 Shanahan will have to wait for the Hall call. (Getty Images)
There is one name that is conspicuously missing from this class, though. That would be Brendan Shanahan, the league's current discipline chief. I imagine that all of the voters were just suspended for a year and a day and he'll take over the voting responsibilities for next season.
Terrible jokes aside, Shanahan's absence is the surprise of the class. I saw plenty of handicapping stories before the vote was made and Shanahan was considered close to a mortal lock. The only person more certain than he to get into the Hall this year was Sakic.
Shanny gets remembered for a lot of different things when you look back at his career. He was a bit nomadic, he was aggressive and would drop the gloves. But he was also a damn good player. He finished his career with 656 goals and 698 assists while playing in an impressive 1,524 games. Only 12 players have scored more goals than Shanahan in their careers.
All the while he racked up 2,489 penalty minutes, clearly a prerequisite for knowing what's a penalty and what's not in hockey.
I was bothered a bit last year by Bure's lack of inclusion but in all honesty, for my money, Shanahan's "snub" is worse than Bure's. I expected Bure to be put on hold another year with Shanahan on the ballot. Of course it's not the biggest issue in the world, and it's tough to take anybody out for him. Shanny will just get in on the second go-round instead of the first.
Some will say this is the problem with the system the way it is, only four players allowed in per year. We've got a bit of a backup like the 405 in rush hour of people waiting to get that phone call. Personally, that doesn't bother me, the Hall should remain an exclusive club for the truly excellent. No doubt Shanahan will get voted in, most likely next year.
Other prominent players who missed the cut in this class: Jeremy Roenick, Eric Lindros and Curtis Joseph.
Then there is the builders category. Somehow, nobody was voted in this year in that classification. That means Pat Burns could have been elected but wasn't. Same goes for Fred Shero. Or any other coach/GM than you can think of who deserves the honor. It was somewhat easy to explain those guys not getting in before because there were other builders receiving the honor, but none this year? OK then.
For more hockey news, rumors and analysis, follow @EyeOnHockey and @BrianStubitsNHL on Twitter and like us on Facebook.