Rick Nash an expensive gamble for Rangers, but they can afford it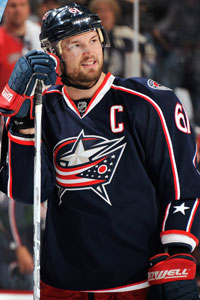 After months of trade talks the New York Rangers were finally able to get their man on Monday aftrenoon by acquiring Rick Nash from the Columbus Blue Jackets.
For as much success as the Rangers had last season, finishing as the top seed in the Eastern Conference and advancing all the way to the Conference Final, they still needed some sort of an upgrade to their roster offensively. Their success last season was based almost entirely on their defense (anchored by Ryan McDonagh and Dan Girardi) and the stellar play of goaltender Henrik Lundqvist.
Offensively they were far from a great team for much of the season, particularly during 5-on-5 play, an area that they have to improve if they're going to get back to that level this upcoming season.
The addition of Nash certainly carries some risk for the Rangers.
For one, even though Columbus didn't get the type of return general manager Scott Howson set out for when this entire saga began, the Rangers still gave up a solid collection of players in Brandon Dubinsky, Artem Anisimov, and Tim Erixon. The other issue, of course, is that Nash carries the fifth largest salary cap hit in the NHL for the next few years and hasn't quite performed up to that level at any point in his career, while his production has seen a slight drop in recent years.
It still might be a very worthwhile risk for the Rangers if for no other reason than, unlike many other teams, they can afford to take that gamble.
Even with the addition of Nash to the lineup, joining recent big-money acquisitions like Brad Richards and Marian Gaborik the Rangers still have, according to capgeek, around $13 million in cap space below the projected $70 million ceiling. That number will shrink a bit once they re-sign restricted free agents Micheal Del Zotto and Anton Stralman, but they're still going to be in a good position as it relates to the salary cap, at least for the next couple of years.
While they have their share of big money players right now (like they always seem to have) the Rangers cap situation is extremely top-heavy and they still have a lot of key contributors on very cap-friendly contracts. This, of course, is a huge advantage and one that recent Cup winners have all pretty much had in common (just look at the cap committments for the following champions: '09 Penguins, '10 Blackhawks, '11 Bruins, '12 Kings). When you have young, cheap players making key contributions it enables you to maybe overpay a bit to bring in a top-line player like Nash that's capable of scoring 30-plus goals in a season for you.
Rick Nash traded
More NHL coverage
The Rangers currently have three of the highest paid forwards in the NHL (Richards, Gaborik, and Nash) but once you get past that trio the Rangers remaining forwards are all relatively cheap. The only other forward that carries a cap hit north of $2 million for the upcoming season is captain Ryan Callahan.
The remaining nine forwards under contract all make less than $1.7 million this season, and count for just around $10 million -- combined -- against the cap. This is what happens when you have young talent like Chris Kreider, Derek Stepan, and Carl Hagelin ready to play big roles. I's also why Glen Sather's ability to get Nash without giving up any of the aforementioned trio of young forwards was such a positive for the Rangers.
Now the question becomes how coach John Tortorella uses his newest offensive weapon. When Gaborik is able to return to the lineup (he's going to miss some time at the start of the season due to shoulder surgery) it's possible he could put his three big-money players together and form what could be on paper one of the most impressive (if not expensive) lines in the NHL with Richards centering Nash and Gaborik. There might be some concerns there about the line defensively, but it would certainly an intimidating one offensively -- and besides, the best defense in the NHL is always a good offense.
Richards and Gaborik spent some time together last season for the Rangers and while they were OK together, they weren't exactly dominant and even seemed to be a bit more productive when they were apart from one another. And maybe that's what Nash needs -- two All-Star level players on his line -- to at least slow down his recent decline. After all, skating next to Richards and Gaborik on most nights would have to be a bit more comfortable than Vinny Prospal and Derrick Brassard.
I had a hard time getting behind the Rangers as a Cup contender this past season, particularly earlier in the year, due to their offense (or lack of it at times). As the roster is constructed at the moment that may not be much an issue this season as Sather has put together a pretty impressive top-six -- no matter how Tortorella decides to mix and match them -- with a nice mix of big money veterans and low cost youth.
For more hockey news, rumors and analysis, follow @EyeOnHockey and @agretz on Twitter and like us on Facebook.