How much would you pay Shane Doan?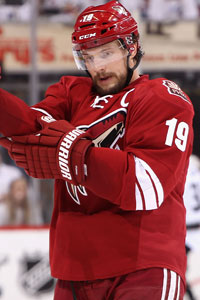 The Shane Doan waiting game continues as the veteran forward has yet to make up his mind on where he's going to play (and very likely finish his career). While part of the problem could be Doan remaining undecided and hoping for everything to work out in Phoenix, it's also entirely possible that many of the teams that have expressed interest simply aren't willing to meet his asking price.
According to a report from Dave Shoalts of the Globe and Mail on Friday, Doan is seeking a contract that will pay him $30 million over four years ($7.5 million per year) if he leaves Phoenix. This comes after TSN's Aaron Ward suggested that the Red Wings are one team that is supposedly out of the Doan sweepstakes because his asking price is too rich for their liking.
If that seems like a high asking price, that's probably because it is. (Though, there was reportedly at least one Eastern Conference team that has made such an offer.)
Doan is still a good player to have, but he's also a soon-to-be 36-year-old, 50-point player.
Would you be comfortable with your team giving out that kind of money to a player like Doan? It's not just a matter of whether or not he can produce enough and give you enough to justify that sort of investment, but how long he'll actually be worth it. If he's ever worth it.
There are only 12 players in the NHL right now that make at least $7.5 million, and only three of them are older than 30. None of them are older than 32.
Since Doan will turn 36 in early October, here's a look at what the NHL's most productive forwards age 36-and-older counted against their team's salary caps this past season:
Keep in mind that Doan turns 36 this season and is coming off a 50-point performance, while he's averaged about 55 points over the past three seasons.
As for the players on the table above and the cash commitments for this upcoming season:
Whitney signed a two-year deal in Dallas worth $4 million per year
Jagr joined him in Dallas for one year on a deal that pays him a little over $4 million
Prospal re-signed in Columbus last year for an identical $2.5 million hit
Sullivan signed a $2.5 million contract in Phoenix in an effort to replace Whitney
Koivu is back in Anaheim for $3.5 million
Bertuzzi is back in Detroit for two years at a little over $2 million per year
Alfredsson and St. Louis are still on long-term contracts signed many years ago. Arnott remains unsigned as a UFA.
So, again, would you feel comfortable watching as your team gives Doan something in the neighborhood of four years and $30 million?
You shouldn't.
I understand it's free agency, and there is a (very) limited market for teams to fight over. When you get down to one guy that over half of the league wants because they feel he can fill a need and be a top-line player for them you're going to see that guy get a lot of money. Perhaps more than his "market value."
But if some team actually gives out that sort of contract it's going to make that one-year investment in Alexander Semin by Carolina seem even better.
If I'm a general manager and my options are one year and $7 million for Semin, or four years and $30 million for Doan, I'm taking the former every single time.
(Then again, if I'm a GM I would actually be making those decisions instead of writing about them.)
All salary data via CapGeek.com
For more hockey news, rumors and analysis, follow @EyeOnHockey and @agretz on Twitter and like us on Facebook.