Jeff Skinner signs six-year, $34.35 million extension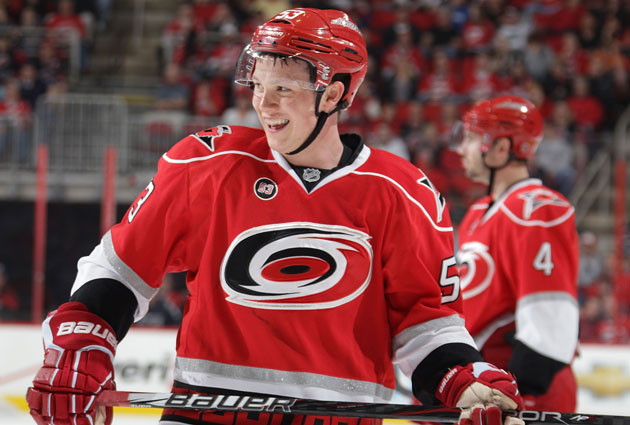 You would be smiling too if you just received a contract like Jeff Skinner. (Getty Images)
The Carolina Hurricanes are spending some serious money this offseason, and young forward Jeff Skinner is the latest player to get a big contract.
The team announced what had been leaked out on Tuesday night, that Skinner is going to be a Hurricane for another six seasons. The contract will pay Skinner $34.35 million over those six seasons. Considering he still has one more season left on his entry-level deal, Skinner is signed through 2018-19 in Carolina.
General manager Jim Rutherford Tweeted on Tuesday evening that "It looks like we are going to be able to get Jeff Skinner tied up for a number of years. Exciting news for our franchise." That's about as official as it gets without actually being official, setting off the reports. Nothing like scooping your own team.
"Jeff is a cornerstone player for our team, and his long-term commitment to the Hurricanes is great news for our franchise and our fans," said Rutherford in a team statement on Wednesday morning. "At 20 years old, he is still in the very early stages of his career, and we felt it was important to ensure he would be spending much more of it in Raleigh."
Skinner, who doesn't 21 until this May, still has one more year remaining on his entry level contract. Over the first two years of his career he's scored 51 goals to go with 56 assists in 146 games.
He's coming off an injury-shortened 2011-12 campaign that saw him score 20 goals in just 64 games.
It's been a very busy summer for the Hurricanes as they've already made two major additions to their lineup by adding center Jordan Staal in a draft day trade with Pittsburgh, and then a couple of weeks ago signing unrestricted free agent Alexander Semin to a one-year contract. Along with Skinner and returning forwards Eric Staal, Jussi Jokinen, Chad LaRose and Tuomo Ruutu, the Hurricanes have a pretty solid collection of talent up front that might be enough to make them the early favorites in the Southeast Division.
The Hurricanes will now have the Staal brothers, Ruutu, Skinner, and goaltender Cam Ward all signed for at least the next four seasons.
It's a big commitment at this point for a guy that young, but the Hurricanes are obviously confident he's going to continue to improve and be a top-liner scorer.
They're certainly going to be paying him like one.
For more hockey news, rumors and analysis, follow @EyeOnHockey and @agretz on Twitter and like us on Facebook.