Who Would You Rather Have? Patrice Bergeron vs. Ryan Kesler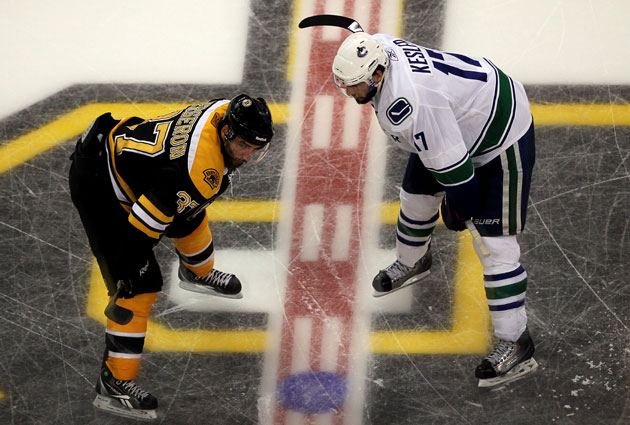 Bergeron and Kesler met in the 2011 Stanley Cup Final. (Getty Images)
The question is simple: Who Would You Rather Have? The answers aren't always as easy. We at Eye on Hockey will take a look at two players and answer the question.
Next up in the Who Would You Rather Have arena we have two centermen from two teams that loathe each other despite a relatively brief history and 3,000 miles of land in between them. So here we go, it's Patrice Bergeron of the Bruins vs. Ryan Kesler of the Vancouver Canucks. Put yourselves in the middle of the rivalry and have at it, guys.
Adam Gretz's Pick: Patrice Bergeron
Even though I like both players quite a bit it's still a pretty easy decision for me to go with Patrice Bergeron here.
Great player, he's still signed for three more years at a pretty solid rate for the type of player that he is, and, for as long as he's been in the NHL, he's still only 27 years old.
I don't want to go as far as to say that he's the best two-way center in hockey, but he has to be on the very short list of candidates and provides so many different things -- goal-scoring, playmaking, defense, and he is consistently year in and year out one of the best players in the league on faceoffs.
He plays in every situation for the Bruins (even strength, power play, penalty kill) and during 5-on-5 play is often times asked to go up against other teams top lines and players. He's the best defensive forward on one of the best defensive teams in the league and seems to be the one forward on the Boston roster that keeps everything going in the right direction on the ice. Every player that plays alongside him sees their production increase dramatically when they're on the ice with him.
Whether you're looking at his play from a statistical standpoint (both traditional numbers and advanced metrics, an area that he's excelled in past seasons) or simply going by the eye test and what you see it's hard to not come away impressed with everything he does.
About the only concern I can think of (and it has to be considered) is the fact he has the concussion history that robbed him of a couple of seasons right around what should have been the start of his prime years in the NHL, but even that hasn't been an issue for a few years.
Brian Stubits' Pick: Ryan Kesler
For me this is probably the toughest one yet. We have two players who are just about the same age -- it's incredible for me to think Kesler is actually the older of the two by a year -- with the same cap hit and the last two winners of the Selke Award as the league's top defensive forward. Oh, and their point totals over the years are pretty similar too.
But I'll take Kesler by a hair.
Of the two players, Bergeron is coming off the better season, I'll certainly grant you that. Offensively speaking they had the same number of goals (22) but Bergeron had 15 more assists than Kesler. Considering the past two seasons Kesler had put up 75 and 73 points, something was amiss. He was playing on a bum shoulder all season and still put up 49 points. He's going to miss some action (that's if the season actually starts, of course) because of the surgery to repair a torn labrum. After that, it should be all systems go again for a nearly point-per-game player.
Is the injury situation a concern? Absolutely. But let's remember that Bergeron's bill of health isn't pristine, either. He definitely appears to be over it now but Bergeron dealt with significant concussion issues just a few years back to the point some wondered if he would play again. Kesler on the other hand has been almost as healthy as an ox, missing just seven games (five in 2011-12) in the last five seasons.
I like Bergeron, I certainly do. His Selke Award was long overdue. But what separates these two players for me is Kesler's ability to score. Perhaps it was an anomaly, but Kesler showed two seasons ago he can pot 40 in a season (41 to be exact). They both can put up points, but Kesler has shown a finishing ability that Bergeron doesn't seem to be able to compare to. Bergeron's best goal-scoring season since his injury is 22 (done three times) compared to Kesler's 41. Again, those 41 goals might appear to be an outlier for Kesler, but we know he's capable of it. My hunch is that once healthy, he can return closer to that 40-goal form.
Defensively it's really not worth splitting hairs. These two are two of the absolute best in the game as evidenced by their trophy cases. It's a wash as far as I'm concerned. Bergeron's career faceoff advantage is better but Kesler has come a long way from early in his career in that regard.
As for any of the extra qualities? Well I already established they each have the same cap hit of $5 million, but Kesler is locked in for another four years compared to Bergeron's two. I'll take the longer contract at a reasonable rate, thank you very much. Plus, Kesler's American and that's always a bonus in my book.
Community
Now you make your pick. All things considered, who would you rather have?
More from Eye on Hockey
Corey Perry vs. Ryan Getzlaf
Sidney Crosby vs. Evgeni Malkin
Joe Thornton vs. Pavel Datsyuk
For more hockey news, rumors and analysis, follow @EyeOnHockey on Twitter and like us on Facebook.