NHL lockout: Your daily hockey fix for Day 10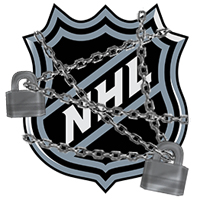 This is Day 10 of the NHL lockout, 2012 edition. Every day, we'll serve up some CBA talk and help you get your hockey fix. Let's begin, shall we?
CBA roundup
• It's been almost two weeks since the NHL and NHLPA last sat down to talk about the CBA. They have hit a stalemate. Maybe they should just bring in James Mirtle, who offers up a five-step plan to hammer out a new CBA. It makes a lot of sense; just see No. 1.
Step 1: Let the players keep the $1.87-billion they earned last season -- and not a penny more. (Globe and Mail)
• Here's another idea to help raise revenue and line the owners' pockets without taking it from the players ... advertisements on uniforms. They are coming to the NBA soon and the NHL would be wise to follow, according to Jesse Spector.
NHL Lockout
| | |
| --- | --- |
| | |
More NHL coverage
I have never been a fan of the idea of ads on uniforms. I think it looks very tacky and it just has never grown on me. But if there were ever a time and a league that it would seem appropriate to do so, this is it in the NHL. Let's get creative. (The Sporting News)
• Remember Red Wings vice president Jimmy Devellano's rant about the players being cattle and then his singling out of Milan Lucic saying he should be thankful for his new contract? Lucic remembered it too and didn't seem terribly fond of it.
"I guess I must be Grade A prime beef. I think we're pretty good cattle if you're looking at it that way," Lucic said with a laugh. "You definitely as a person don't like to be called 'cattle.' You'd think people would treat you better than as just an animal. Obviously he's got his name on the Cup a lot of times. I'm not going to say anything to disrespect him. But he said what he said and I kind of laughed at it. It is what it is.
"He singled me out and I don't know where or why he even singled me out. For me from an athlete's perspective you look at [Devellano] and what he's done in his hockey career, and respect what he's done for the game." (CSN New England)
• Everybody wants to blame Gary Bettman for where the NHL is. Frankly, it's easy to do considering he's the only commissioner to have a work stoppage ... and this is his third. But Ken Campbell doesn't quite understand the reasoning, even if Bettman himself makes it easy sometimes to dislike him. (The Hockey News)
Hockey fix
For today's hockey fix, we're going to go back to 2008 for the NHL's inaugural Winter Classic between the Pittsburgh Penguins and the Sabres in Buffalo's Ralph Wilson Stadium. This was the start of what has become the NHL's biggest regular-season spectacle by far.
For more hockey news, rumors and analysis, follow @EyeOnHockey and @StubitsCBS on Twitter and like us on Facebook.