2013 NHL Draft Prospects Big Board Nos. 26-50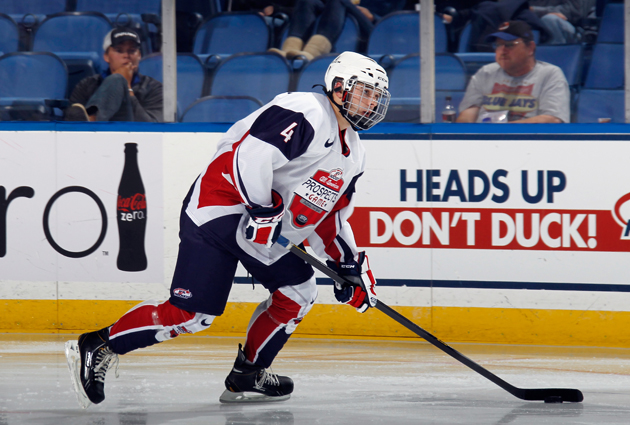 Defenseman Will Butcher is one of the top prospects currently playing for the U.S. National team. (Getty)
The 2013 NHL Entry Draft class comes into the season with a fair amount of hype and looks awfully deep at this early stage of the season. The class is highlighted by Nathan MacKinnon, a dynamic forward from Cole Harbour, Nova Scotia, and Seth Jones, a big, rangy defenseman from Plano, Texas. While there is a gap between MacKinnon and Jones and the rest of the field, there is a lot of exciting talent among first-year draft eligibles.
Each player's draft stock will fluctuate throughout the season, but Eye on Hockey wants to start you off on the right foot with its Top 50 Players to Watch list. This list shouldn't be taken as a draft projection, but a preseason ranking, based on players' performance over the previous year and some summer tournaments. There can and will be a lot of movement between now and the 2013 NHL Entry Draft in Newark, N.J., this June, but hopefully this gives you a good first look at what is sure to be a thrilling class.
We'll keep you covered all season long here at Eye on Hockey with monthly mock drafts and news and notes from around the NHL Draft prospect world.
This list was comprised based on my own viewings in person and on video as well as consultations with scouts from NHL, junior and college hockey teams to fill in blanks and add their own thoughts.
Coming Thursday...Prospects. Nos. 1-25
2013 NHL Big Board by Chris Peters
26. Ian McCoshen - D - Waterloo Black Hawks (USHL) - 6-2.5, 207
With pro-size at age 17, McCoshen has been playing at a high level for the last three years in the USHL. His size allows him to play a physical game, but he has some offensive touch. He has a good shot and a veteran's mindset. There isn't a lot left to learn about McCoshen, which makes him seem like a safe prospect, but may allude to a lack of upside. Can't argue with his size or the way he plays right now, though.
27. Steven Santini - D - U.S. National Under-18 Team (USHL) - 6-1.5, 207
Upside is a big reason for Santini's inclusion at 27. There are signs that he could be more offensive, but his defensive talent is prevalent. His mobility has improved over the last season and he's added some more grit and toughness to his game, which scouts will love.
28. Bogdan Yakimov - C - Penza (MHL) - 6-5, 202
While skating could prove to be an issue, Yakimov has some puck skills that immediately jump out at you upon first look. With hands as quick as you'll see for a man of this size, Yakimov also has some scoring touch with a wicked release. He put up 15 goals in the MHL last year, and with another year of development could be poised for a breakout. This is a bit of an optimistic ranking, but if he keeps coming along developmentally, he belongs in the first-round discussion.
29. Ryan Hartman - RW - Plymouth (OHL) - 5-11, 187
Don't let the size fool you, Hartman knows how to impose his will in games in one way or another. Though his numbers were deceptively low last year, if he wasn't scoring he was doing other things well. He can play at both ends of the ice, likes to initiate contact and has the puck skills of a playmaker. Hartman knows how to score, too. He could put up a bunch of points in his first OHL season.
30. Jusso Ikonen - LW - Blues (SML) - 5-7, 161
His size might keep him out of the first-round discussion, but it shouldn't. The diminutive Ikonen is an extremely productive player with great speed (required if you're a little guy) and dazzling puck skills. Think about this: At 16 years old, at his size, he was able to put up better than a point-per-game at the U20 level and was able to register nine points in 20 games against pros in Finland's top league. He did well enough for Espoo to use him in the SM-liiga playoffs, where he posted four goals and two assists.
31. Alexander Wennberg - C - Djugardens - 6-1, 174
Wennberg showcased himself rather emphatically at the World U18 Championship last season, where he led Sweden with nine points en route to the silver medal. He is an effective two-way center who is all about getting the puck to his linemates. Good vision, crisp passing and the ability to create on the fly makes him an awfully attractive prospect.
32. Will Butcher - D - U.S. National Under-18 Team (USHL) - 5-9.5, 191
A little taller and we'd be talking about Butcher as a first-round lock. The slick-skating defenseman has a terrific shot from the point and high-end distribution skills. He can be a high-risk player at times, but has great recovery speed and hits more than he misses anyway. Despite the size, he's more than serviceable defensively.
33. Zach Fucale - G - Halifax Mooseheads (QMJHL) - 6-1, 181
If there is going to be a first-round goaltender this year, it will likely be Fucale. After backstopping Canada to a fifth straight title at the Memorial of Ivan Hlinka U18 Tournament in August, the stage was set for Fucale to jump into the spotlight. In a weak crop of goalies, Fucale appears to be heads above the rest.
34. Frederik Gauthier - C - Rimouski Oceanic (QMJHL) - 6-5, 210
With such a big frame, Gauthier very easily could move into first-round contention as the season progresses. He spent last year in Quebec AAA, so there's a lot more to be learned about this physical specimen. One scout marveled at his puck protection and competitiveness and expects him to be dominant in the Q.
35. Bo Horvat - C - London Knights (OHL) - 6-0, 200
A high-end defensive forward, scouts have marveled at his work ethic and attention to detail. A lack of confidence in his offensive capabilities leaves him vulnerable to fall outside the first round, but there are plenty of teams that will love his propensity for blocking shots and doing a lot of the little things right.
36. Justin Bailey - C - Kitchener Rangers (OHL) - 6-3, 194
After making the jump from U.S. AAA to the OHL this season, there should be a bit of a learning curve for Bailey, but the tools are there for him to be a strong prospect. One scout remarked on his rawness and that there is work to be done yet, but if he figures it out quickly, the size and physicality are awfully attractive.
37. Shea Theodore - D - Seattle Thunderbirds (WHL) - 6'2, 182
I fully expect Theodore to be a riser based on the limited knowledge of him that I have. However, it is because of that limited knowledge that he is probably lower than most would put him. In 39 games last season in the WHL, he posted 35 points. Good size, good productivity and a full WHL season ahead is a good recipe for success for this touted defenseman.
38. Michael Downing - D - Dubuque Fighting Saints (USHL) - 6-3, 190
With good size and solid skating, Downing still has some rawness to his game. He's made incredible strides in one season, which alludes to some sound potential and ability to take his game to another level.
39. Jason Dickinson - C - Guelph Storm (OHL) - 6-1, 179
The number of high-end centers in the OHL is awfully intriguing and Dickinson is certainly among them. His play at both ends of the ice and some flashes of offensive prowess will keep him in the first-round discussion. A little more productivity could go a long way for his stock, though.
40. Sergei Tolchinsky - RW -Soo Greyhounds (OHL) - 5-7, 150
His size has scared some scouts, including NHL Central Scouting which did not list him on its watch list. Don't be fooled. Tolchinsky is a special player with elite skating and elite puck skills. He scored 19 goals in the Russian U20 league last year at age 16. That's not easy to do. Additionally, Tolchinsky was dominant against his own age group in international competition despite his diminutive stature. A big year in the OHL could go a long way to garnering more attention.
41. Ryan Kujawinski - C - Kingston Frontenacs (OHL) - 6-2, 203
With a great frame, Kujawinski is a high-end two-way player and has a tremendous work ethic on the ice. A midseason trade from Sarnia to Kingston last year seemed to breathe new life into the big forward, according to one scout. The stats agree as he posted 30 points in 30 games with the Fronts after just six in his first 29 with Sarnia.
42. William Carrier - C - Cape Breton Screaming Eagles (QMJHL) - 6-1, 198
Another big body with good strength, Carrier has some toughness and decent-enough skills. He's a tough player to project as it appears he hasn't completely unlocked his game yet, but there are certainly glimmers of high-end potential.
43. Oliver Bjorkstrand - RW - Portland Winterhawks (WHL) - 5-10.5, 167
This one might be a little bit off the grid, but the Danish sensation could garner a lot of looks this season. Despite playing on a weak Team Denmark at the U18 World Championship, Bjorkstrand was able to do a lot on his own, registering seven points in six games. He's smart, he's shifty and he should be a lot of fun to watch on a good team like Portland. After playing against men in pro much of last season in Denmark, he should put up points in bunches in the WHL.
44. Marko Dano - C - Slovan Bratislava (KHL) - 5-11, 183
There have been fewer and fewer high-end prospects coming out of Slovakia of late, but Dano could buck the new trend. A dynamic offensive threat, he makes those around him better and has shown the ability to score consistently. He buried a goal in his KHL debut and should be challenged in a top-tier pro league.
45. Linus Arnesson - D - Djugarden (Allevenskan) - 6-1, 179
A smooth-skating two-way defenseman, Arnesson is a tremendous puck mover. He's good on the rush and has a knack for finding seams. There's poise in his game, which helps his decision-making and ability to defend.
46. Keaton Thompson - D - U.S. National Under-18 Team (USHL) - 6-0, 187
A steady two-way defender, Thompson is smart in his own end and makes good decisions with the puck on his stick. He's a steady skater and has great footwork to stay in front of forwards. He's one of my dark-horse picks to sneak up, maybe even into the first round, but there's work to be done to get there.
47. Tyler Hill - LW - Hotchkiss School (CT-HS) - 6-6, 220
The size among forwards in this draft is truly remarkable, and Hill might be the biggest of them all. As such, he's the lone U.S. prep player on this list. One college hockey coach who often scouts the prep ranks said Hill has good hands for a guy his size and physically dominates games, but another scout called his skating into question. Projections for him are all over the map, but you can't argue with that size.
48. Luke Johnson - C - Lincoln Stars (USHL) - 5-11, 167
After making a seamless transition from North Dakota high school hockey to the USHL last year, Johnson has earned some preseason hype surrounding his offensive talent. He put up 55 points as a rookie last year, tough to do in the defensive-minded USHL. He'll have to do even better this year to live up to now lofty expectations, but he certainly has the talent to do so..
49. Tyler Motte - C - U.S. National Under-18 Team (USHL) - 5-9, 190
When at his best, he's an offensively dynamic talent. Good speed, solid strength despite a smallish frame, and good finish around the net make him an intriguing prospect. Motte has had a problem with consistency, which he has a whole season to prove isn't a problem anymore.
50. Anton Slepyshev - LW - Novokuznetsk (KHL) - 6-2, 192
Passed over entirely in the last draft due to concerns he'd never leave Russia, Slepyshev remains eligible in 2013 and remains one of the best players available. He spent more than half of last season in the KHL at 17 and while he struggled to put up a lot of points, he had clearly outgrown U20 hockey. He's been a standout in international competition and if there's an inkling this time that he'll come to North America in a few years, he's going to get picked fairly early. However, he suffered a broken collar bone in late September and that may affect his draft stock.
Disagree with Chris' ratings? Send him your thoughts. Follow @chrismpeters and check out his blog, The United States of Hockey. Don't forget to follow @EyeonHockey and like us on Facebook for more hockey news rumors and analysis.