Proposing some wacky rules changes for when NHL lockout ends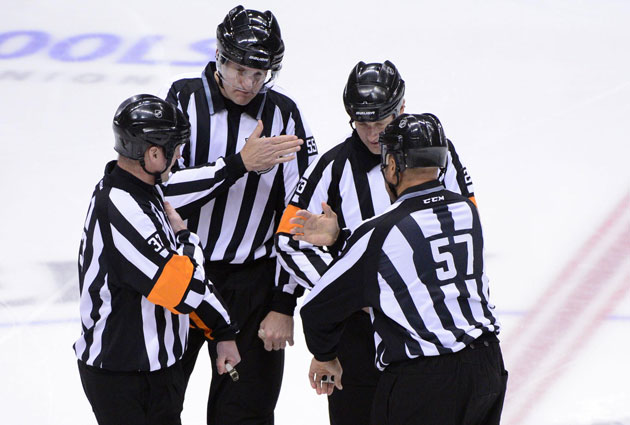 Referees could be calling some different rules whenever hockey returns. (US Presswire)
After the lockout that wiped out an entire NHL season eight years ago, the NHL knew it had to do some things to try to spur interest as well as spur goal scoring (many think the two are tied together at the hip). The result was a slew of changes, such as eliminating the two-line pass and instituting the shootout to resolve ties.
Debate the rule changes, but the whole intent was to try to give the game a boost as well as entice fans to return. Overall, it seemed to work -- greater attendance and rising revenues indicate as much. I think the majority of fans despise the shootout, but I still don't see many heading for the exits or turning off their TV when the shootout starts. In fact, most are sitting on the edge of their seats or standing.
Fast forward to today, and you have a lot of the same issues facing the NHL, just in different forms. Fans once again are enduring a lockout, but this time they don't seem anywhere near as willing to forgive and forget. Fool me once, shame on you. Fool me twice, shame on me. That would seem to be an apt motto for the feeling of many fans; they won't get burnt again.
Point being, the NHL might consider spicing up the game. Just as it was before the previous lockout, offense is trending downward. The changes made in 2005 did bring a return of offense for a little while, but the game has evolved like a virus and is back to being immune to scoring.
The way I see it, there are only a couple of solutions to try to spur offense and interest this time. The first involves disbanding 28 teams to leave only the Philadelphia Flyers and Pittsburgh Penguins. I admit, this is not a likely scenario, but it would certainly do wonders for the offensive numbers.
More likely, the NHL can look to tweak some of the rules, again. While that solution is likely to happen in some form -- the rules change every offseason -- there are many unlikely things they could try. One of them would involve changing the way shootouts are constructed.
I have admitted that I am actually a fan of the shootout. But I understand many people don't, and I get why. The biggest complaint seems to be that it doesn't involve defense and after a game of 5-on-5, it's just wrong to eliminate half the game at the deciding moment.
To solve -- or at least address -- this issue, the Boston Globe's Kevin Paul-Dupont offered up a suggestion that he'd like to see.
Also would like to see new NHL shootout format.Two shooters vs. one defender and goalie. Oddly, it remains a team sport.

— Kevin Paul Dupont (@GlobeKPD) October 3, 2012
In a 2-on-1 shootout format, play begins w/one shooter at blue line w/puck. Other shooter ahead, at one of FO dots. Defender tween the 2.

— Kevin Paul Dupont (@GlobeKPD) October 3, 2012
I'll admit it, it's an intriguing idea. It's wacky, sure, but nonetheless intriguing. Dupont extended it further to say there are 15 seconds regardless of shots or the defenseman taking it away (keep playing hockey, he said) and the goalie can't smother the puck or it's a goal. Not sure I agree with those last two parts, but the general idea is interesting.
It's also very unlikely to happen. It doesn't matter too much what the fans think on this issue. The shootout hasn't seemed to serve as a hindrance for the league; it just has led fans to piss and moan. So if it ain't broke, don't fix it. I doubt there is much if any appetite to alter the shootout format.
Still, it inspired me to present some other potential rules changes. Some you might have seen before, but they really should be considered so I'm presenting them again now. Others are just wacky and, I admit, just as unlikely (or even more so) to happen as Dupont's shootout concept.
This is just some brainstorming here, so don't chop me down too bad.
3-2-1-0 point format
This one is not new, but it just needs to happen. It remedies the other big complaint with the shootout, that winning a shootout is equal to winning in regulation. Give 3 points for a regulation win, 2 points for an OT/shootout win, 1 point for an OT/shootout loss and zilch for a regulation loss. Put the value back on winning games outright rather than playing for overtime.
Inverted trapezoid
Everybody knows about the trapezoid's installation in the last lockout and the frustration it has caused (you can thank Martin Brodeur's stick-handling abilities for that one). This proposal suggests not eliminating the trapezoid as many would like but actually reversing it. Now goalies can play the puck only outside the trapezoid, not inside it. Doesn't it stand to reason to create more excitement to allow the goalie more chance to get away from his net rather than staying close?
This is an idea that I can't take credit for; it was presented by The Goalie Guild, but I'd like to see it in action. I don't know if it would be good or if I would even like it, but it's at least worth a shot in the development camp.
Goals don't end power plays
There is always a lot of talk about if you want to increase scoring then increase penalty minutes. Teams are obviously more likely to score when there are fewer opponents. Instead of making up new rules or calling the game stricter, why not say a two-minute penalty is a two-minute penalty no matter if they score or not? Go a man up, and score in just 10 seconds? You still get 1:50 to try to add another. Hey, I said some of these ideas are radical.
Seven-minute overtimes with 4-on-4 then 3-on-3
This is another one that is hardly original, but one I think should happen. There would be a seven-minute overtime with one skater being removed from each side at the first dead puck after four minutes. The idea would be to decrease the chances of a shootout. Fewer guys on the ice equals greater odds that a team scores.
Two-point goals
Much the same way as basketball added a three-point line many moons ago, what if the NHL had a two-point line? First, it would probably require a change in the vernacular to start calling them points instead of goals, but that's not the point (no pun intended). The objective is to award two points on goals that are scored -- untouched by anybody on either team sans the goalie -- from beyond the blue line.
The one exception to this rule is on empty nets. With no goalie on the ice, it's just one point still.
The potential flaw here is it could slow the game down more as players might elect to dump the puck in on net instead of into the boards. At that point, the goalies would freeze play. This is another one for the testing games to see how it would actually play out.
This one is probably too far out of the box and I imagine will be the least liked suggestion here.
Goalies serve penalties
This is one that I have long believed in. Why should a goalie get to stay on the ice when he does something against the rules while all skaters get banished to the box? I say make the goalie serve the penalty in the box, and the team puts in the backup (and also loses a skater; you have to keep the power-play angle involved).
Yes, it's a crazy idea that I don't think many if any would be on board with. But think about the prospect of a goalie coming in cold off the bench on the penalty kill. It would add an interesting wrinkle. At the same time, I don't think it's contrived, either. The goalie committed the crime; he should serve the time. The goalie exits the box at the first dead puck after the penalty, a la a fighting major.
No more matching minors
If two guys get sent to the box on the same play, make the teams play 4-on-4 for the duration of the penalty. Note that this is just for matching minors; majors don't receive the same treatment on this, so fighting is excluded from this conversation.
Much the same as how in football, a five-yard penalty can offset a 15-yard penalty (really, shouldn't that be a net gain of 10 yards for one team?), I never quite understood why matching minors don't result in less men on the ice. Play 4-on-4.
Goalies can't freeze the puck outside of the crease
If they do, it's a delay of game call. This presumably will lead to more mad scrambles in front of/around the net. You can devise the rule how you'd like and say if any part of the body is in the crease then they are free to freeze, but I'd like to see it where the puck has to be touching the crease, not just the goalie.
Are these rules suggestions crazy? Probably. I admit I am not sure I even believe all of them are good, and I can readily admit that some of them wouldn't last more than five seconds in a conversation. But this is a time for radical thinking.
What other off-the-wall ideas do you think would be worth a look?
For more hockey news, rumors and analysis, follow @EyeOnHockey and @StubitsCBS on Twitter and like us on Facebook.