NHL lockout: Your daily hockey fix for day 48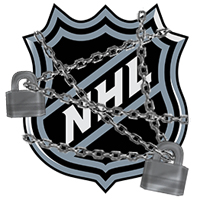 This is Day 48 of the NHL lockout, 2012 edition. Every day, we'll serve up some CBA talk and help you get your hockey fix. Let's begin, shall we?
CBA roundup

• The NHL lockout has cost us 326 regular season games and all 97 exhibition games for a total of 423 games. That number has been steady for a couple of weeks now but it could increase on Friday by at least one.
• Will Friday be the day the 2013 Winter Classic gets axed? It's expected that it will be (though there seems to be at least a few people who think that cancellation could be delayed, as unlikely as it might seem), which might make it one of the more disappointing days of the lockout. And that's saying something, because they've all been disappointing. The 2013 Winter Classic is supposed to take place at Michigan Stadium in Ann Arbor and feature the Detroit Red Wings hosting the Toronto Maple Leafs.
• Here's what you might have missed on Friday night. PredictionMachine.com utilizes its play-by-play technology to simulate each game from the original schedule and predict the outcomes. Just because the NHL isn't playing on the ice doesn't mean we can't play the games. So, here are the "results" from the games that were scheduled for Friday night.
Friday night's schedule
Winner
Winner record
Loser
Loser record
Bruins 2
9-2-0
Capitals 1
5-6-1
Hurricanes 5
4-6-3
Islanders 1
1-9-1
Blue Jackets 8
4-4-2
Penguins 4
8-3-1
Senators 2
7-3-0
Coyotes 0
5-4-0
Blackhawks 3
8-2-0
Predators 0
6-5-0
• Detroit Red Wings defenseman Ian White said earlier this week that a cancellation of the Winter Classic could be bad news for the season. Boston Bruins forward Shawn Thornton is also very concerned about the direction the NHL is taking right now. Here's what he told Joe Haggerty of CSSNNE on Thursday:
"I haven't heard anything good. From what I've heard, the NHL has refused to meet with us and then is going to go ahead and cancel [the Winter Classic]. I don't know if it's to create leverage. I really don't have a feel for this. You would think they'd want to get everybody in a room to find a solution for this.

"I don't know if it's just a PR trick. I don't know if they're adamant about shutting down for the season or only having a half-season. I don't have a feel for it, but either way I don't like the way things are going."
Neither do we, Shawn. Neither do we. [CSNNE]
• Because of the lockout, Andrew Brunnette realizes it's very possible that he's played his last game in the NHL.
"I've got one foot in the grave and one foot on the ice with the casket slowly creaking to a close," Brunnette told Michael Russo of the Star Tribune.
Brunnette, 38, appeared in 78 games for the Chicago Blackhawks last season and scored 12 goals to go with 15 assists. During his 16-year career he's appeared in 1,110 games and scored 268 goals to go with 465 assists. That's 733 points. [Star Tribune]

• Tampa Bay Lightning forward Steven Stamkos is going to wait a few more weeks before he decides on whether to play in Europe. Hopefully it never has to come to that. [Tampa Bay Times]
Daily hockey fix
And speaking of Stamkos, for your daily hockey fix, here all 60 of his goals during the 2011-12 season. He became just the second player since 1996 to score 60 goals in a single season (Alex Ovechkin in 2007-08 was the other) and it was enough to win him his second Rocket Richard award which is given out annually to the NHL's leading goal scorer.
For more hockey news, rumors and analysis, follow @EyeOnHockey and @agretz on Twitter and like us on Facebook.