Canucks to start Roberto Luongo on Friday against Blackhawks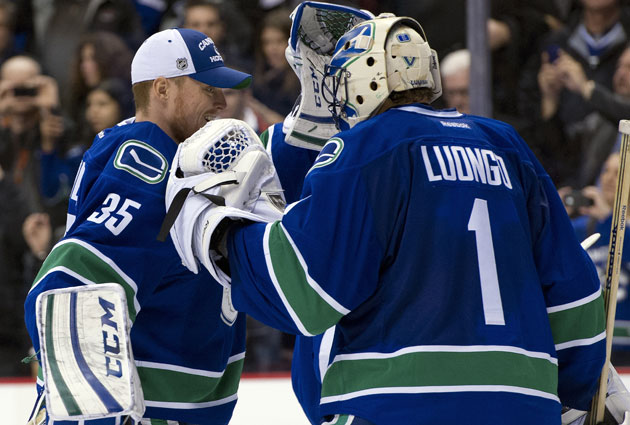 Luongo will start his third straight game for the Canucks on Friday. (Getty Images)
More NHL: Scores | Standings | Odds | Fight-O-Meter | League Leaders | Rumors
Roberto Luongo is now back to being the No. 1 goaltender in Vancouver. For now, at least.
After Luongo got the start on Wednesday night at home and shut out the Avalanche in a 3-0 win, the Canucks are giving him the nod again on Friday. What makes it just a little more intriguing is the start will come against the Chicago Blackhawks, the team that has tormented Luongo more than any other during his career.
Coming into the season, it looked like Cory Schneider was the man both now and for the future. There had been rumors of a Luongo trade hanging over the team all the while, going back to the end of last season. But in the early going, Schneider has struggled to the tune of a 3.13 goals against average and a save percentage of .897.
Luongo, on the other hand, has been showing he's still got it as a No. 1 goalie -- if anybody was doubting it. In his time so far, he has a 1.61 GAA and .938 save percentage, a pretty stark contrast to Schneider's early season numbers.
This has been the greatest drama of the early season. Luongo seemed to have worn out his welcome with fans in Vancouver. They were more than ready to turn the keys of the franchise over to Schneider, and the franchise showed the same willingness last postseason by giving Schneider the starts in the final four playoff games against the Kings. The writing was on the wall for Luongo to be dealt, something that he said he wouldn't stand in the way of happening.
But Luongo was never traded and actually became a fan favorite through his non-official Twitter account (@Strombone1) and a more public personality. It got to the point that he replaced Schneider in the first game of the season and was greeted with a standing ovation.
On the surface, it seems like it could be a tough situation for both the goalies and coach Alain Vigneault. However, it has been anything but. Both goaltenders have handled this entire thing as well or better than could be expected. At first, the majority of the pressure was on Luongo, and he handled it incredibly well. Now it's on Schneider, who's doing just as well with the pressure.
Schneider gave the it is what it is. "We're on the same team. Happy team won." Said he doesn't cry himself to sleep.

— Hosea Cheung (@hosea24hours) January 31, 2013
It's great that both goalies have handled this so well because it's a great luxury to have if you are Vigneault. Two good goalies (and, despite his start, Schneider is still a very good goalie) in a short season is a tremendous "problem" to have. As long as both are able to co-exist and not let it become too big of a distraction, then it eases the stress on everybody involved.
Does this mean GM Mike Gillis is done looking for trades or that Schneider is going to become the backup full time? No, it hasn't changed much. It just makes the drama around this whole situation that much more interesting.
For more hockey news, rumors and analysis, follow @EyeOnHockey and @StubitsCBS on Twitter, subscribe to our YouTube account and like us on Facebook.