We're talking practice? Getting time to practice in 2013 a bonus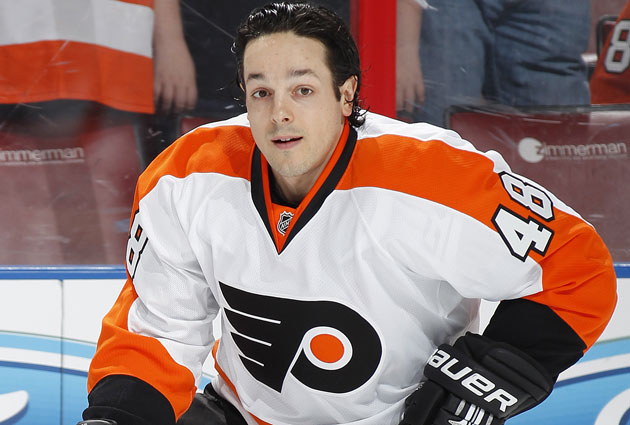 Daniel Briere and the Flyers finally had some time to practice. (Getty Images)
More NHL: Scores | Standings | Odds | Fight-O-Meter | League Leaders | Rumors
WASHINGTON -- Yes, Allen Iverson, we're talking about practice.
Normally, there is nothing more boring than watching professional athletes practice. Fans turned out in droves when the lockout ended to do that, but that was more out of simply missing seeing any type of hockey, even if it was just drills and chaos.
But the fact is, there was hardly any time to practice before this season started because of the crunch put on things with the CBA struggle. Even more so, practice in the season is hard to come by, with teams playing on average about 3.5 times per week and often playing back-to-back nights.
That might not sound like such a big deal for professionals, but it certainly is. When you're in a rough patch during the season, one way you can try to work it out is by doing drills and working hard between games. Without the ability to do that, it can be tough to flip the switch.
That's a position the Philadelphia Flyers had more or less been in to start the season. They are off to a disappointing 2-5-0 start and because of the compressed schedule, they haven't had the luxury -- yes, this season it's a luxury -- to just work on things. But they had that chance this week with a rare two days off between games, and they took advantage of it.
"It felt great," Flyers coach Peter Laviolette said about practicing. "I commented on it again this morning to the players. It just felt great to go out there and work on things. Work on power plays, 5-on-3, 4-on-3, forechecks, cycles, D-zone coverage, everything. We just tried to give everyone a refresher.
"I don't think enough can be said about quality practices. I think the players put a lot into it, so I think that's a positive. There's just not a lot of time. There hasn't been a lot."
Whether or not it will make a difference remains to be seen. But a few days off and a short train ride to DC for their next game could be just what the doctor -- and the coach -- ordered.
Frankly, the Flyers needed it. This season hasn't started off anywhere near as well as they hoped, and they've spent a lot of time away from home. Friday night's game in Washington marks their sixth trip in eight games. All that travel and playing didn't afford them this opportunity.
The trick now is making the adjustments and drills pay off and producing results on the ice.
"You work on things in practice with hopes that it translates to the game," Laviolette said. "Certainly, you'd like to see that happen."
Practice: Whoever thought something so boring and mundane would be seen as a luxury?That's the NHL 2013 season for you.
For more hockey news, rumors and analysis, follow @EyeOnHockey and @StubitsCBS on Twitter, subscribe to our YouTube account and like us on Facebook.