CBSSports.com Hobey Baker Award Watch: Week 16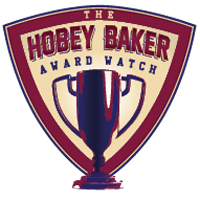 Every week this season, Eye on Hockey will be tracking the best players in college hockey as they compete for the ultimate individual prize, the Hobey Baker Memorial Award.
The Hobey Baker Watch is a collaboration between Eye on Hockey blogger Chris Peters and CBS Sports Network Hockey Analyst Dave Starman.
Getting to the later stage of the season, Hobey contenders are starting to separate themselves from the pack a little bit more. This is also the point of the season where players start hitting major benchmarks where they start getting more and more attention.
Ryan Walters has distinguished himself as the nation's first player to reach the 40-point plateau. The UNO junior continues to surprise throughout the season with his unprecedented production.
Meanwhile, Boston College's Johnny Gaudreau, who missed time while at the World Junior Championship, leads the nation in points-per-game with 1.5. Drew LeBlanc of St. Cloud State became the nation's first player to reach 30 assists, and Greg Carey of St. Lawrence makes his return this week as he has taken over the national goal-scoring lead with 18.
This is also the part of the season in which every game's importance is heightened as teams jockey for position in the conference standings for the playoffs and the all-important Pairwise rankings. Things should get heated, especially in the Hobey Baker race.
1. Ryan Walters -- Nebraska-Omaha
Position: Forward
Class: Junior

Comment: Walters collected just one point as UNO split a home series against Michigan Tech, but he maintained the national scoring lead and is the first to reach 40 points this season. He is two goals off the national scoring lead but is well positioned heading into the final months of the season. Walters is on pace to reach 51 points by the end of the regular season, which should put him in Hobey Hat Trick territory.
2. Johnny Gaudreau -- Boston College
Position: Forward
Class: Sophomore

Comment: Only three sophomores have won the Hobey, and Gaudreau is still in position to make himself the fourth. But his production has tapered a little bit from earlier in the season. He has had just two points in his last four games, so his Hobey stock might start sliding. That said, it was around this time last year that Gaudreau went on an absolute tear. BC has been historically good in February and March, so keep a close eye on this Calgary Flames pick. Gaudreau trails only Corban Knight in the Hobey Baker fan voting.
3. Drew LeBlanc -- St. Cloud State
Position: Forward
Class: Senior

Comment: Hobey voters tend to like the seniors, and LeBlanc is stating his case for being the best fourth-year player in the country. The nation's best set-up man has 30 assists, which is six more than the next closest player. He has had at least one assist in all but six games this year and has the Huskies surging in the second half. LeBlanc is also second in the country with 38 points. The team captain could help himself in a big way this weekend with a good performance against No. 1 Minnesota. It tends to help Hobey candidates to have a few of those signature moments in a season that will stick out in voters' memories.
4. Greg Carey -- St. Lawrence
Position: Forward
Class: Junior

Comment: It has been many weeks since Carey has been in the top four, but his 18 goals are tops in the nation and that's worth noting. Statistics are certainly going to weigh heavily in the voting, and it helps to be a leader in a given category. Carey has posted goals in each of his last five games and has the Saints unbeaten in their last six games. That stretch included three consecuive wins over Dartmouth, Harvard and Cornell, so no easy tests there. The big issue dogging Carey is that St. Lawrence has been a middle-of-the-pack team this year. It's pretty rare to see a player from a non-contending team walk away with the award.
Others to Watch:
Corban Knight -- F -- Sr. -- North Dakota
Danny Kristo -- F -- Sr. -- North Dakota
Erik Haula -- F -- Jr. -- Minnesota
Steven Whitney -- F -- Sr. -- Boston College
Eric Hartzell -- G – Sr. -- Quinnipiac
For more hockey news, rumors and analysis, follow @EyeOnHockey and @chrismpeterson Twitter and like us on Facebook.