Ray Whitney doesn't think Coyotes will leave Arizona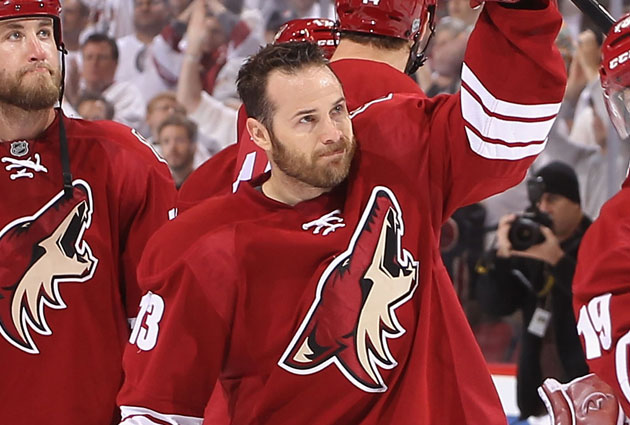 Whitney spent two seasons with the Coyotes before moving on to Dallas. (Getty Images)
More NHL: Scores | Standings | Odds | Fight-O-Meter | League Leaders | Rumors
In case you've been under a rock, you're aware that Greg Jamison was unable to purchase the Phoenix Coyotes in time to meet a favorable lease agreement with the City of Glendale.
It has left the future of the franchise up in the air for even longer. The idea of relocation is again bounding about as cities like Quebec City, Seattle and Portland have been mentioned as a potential destination for the team. Others have even suggested they could be folded. (I think you can forget that idea immediately; they won't be folding a franchise.)
One former member of the Coyotes, veteran Ray Whitney, doesn't think the franchise will be anywhere but Arizona for a long time. Last offseason Whitney signed with Dallas instead of re-upping with the Coyotes. He thought Jamison would get a deal done, but as he told Sarah McLellen of the Arizona Republic, even if it's not Jamison, there will be a deal with someone to keep the Coyotes in Phoenix.
He has some relatively sound reasoning, too.
As long as Gary Bettman is Commissioner of the NHL, Whitney said he doesn't think the Coyotes will leave the Valley.

"I just don't see it," he said. "I think with the cost certainty now or even more established with the 50-50 [revenue split] and the contract limits it makes it more attractive. Maybe some of those people that walked away before are a little more intrigued now.

"Your franchise value obviously goes up. Your money that you have to pay out is fixed at a pretty good rate so you can make it happen. I don't know if Greg is going to have any opportunity again. I don't know about the City of Glendale, but I would think the City of Glendale doesn't have a whole lot. What's the alternative? An empty building?"
The prospect of an empty building is exactly why the city had previously agreed to a lease agreement that called for the city to spend $15 million a year. It was a cheaper alternative than paying more to keep a tenant-less arena going.
Then there's the next point brought up by Whitney about the Coyotes being more attractive with the new CBA. I'll grant Whitney that is the case -- there will be a little more money coming in. But that doesn't mean they are still attractive. It's not like the new CBA is going to turn a team that bleeds money into a money producer. They (along with many other teams) are still going to lose money on this.
Speaking to the people who walked away previously, I doubt they will get back in the picture. One of them is Jim Balsillie, who wanted to move the franchise all along. Another was Matthew Hulsizer, who failed in attempts to buy other franchises in addition to Phoenix.
It's clear that the league wants to keep the Coyotes in Arizona, so Whitney is probably onto something with his hypothesis. Still, I wouldn't take it to the bank. Anything seems to be in play at this point for the Coyotes -- staying or relocating. Until there's a clear buyer with the money (the key part, it seems), we won't have a clue.
Previously from Eye on Hockey
Portland emerging as relocation target?
How would Seattle be as NHL market?
Markham moves forward with potential arena
Quebec City unveils plans for arena
Deadline passes, Jamison issues statement
For more hockey news, rumors and analysis, follow @EyeOnHockey and @StubitsCBS on Twitter, subscribe to our YouTube account and like us on Facebook.