Ilya Bryzgalov sets Flyers record for longest shutout streak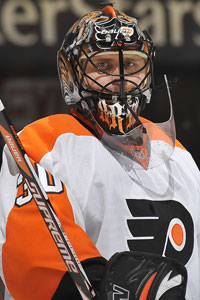 Bryzgalov had stopped more than 100 consecutive shots. (Getty Images)
Two months ago, fans of the Flyers were ready to return Ilya Bryzgalov to Phoenix. They were wondering if the team was going to go out and find another goalie. That's how bad he was playing.
Now? He's the new franchise record holder for longest shutout streak.
Coming off three straight shutouts, Bryzgalov kept the Islanders off the scoreboard for the first 32 minutes on Thursday, putting him ahead of John Vanbiesbrouck in franchise lore. The record was 227:40 before Bryzgalov broke it.
Eventually the Islanders were able to beat Bryzgalov and end his shutout streak at 249:43.
It has become one of the best stories in the league down the stretch, his revival. All season he looked like a relative disaster for the Flyers, failing to maintain a save percentage above .900. Now he can't be beat and his numbers continue to rise. In addition to the previous three shutouts, he also has four in his last five games.
This is the part where I could say this is what the Flyers and their fans were expecting when they acquired Bryzgalov this summer, but that would be a lie. Nobody could have expected him to be this good. It's the streak of a career.
My question is how long will the streak last? Certainly he can't keep this level up forever. But he also had to be better than he was earlier this season. As long as he is playing this well, the Flyers are very scary in the East, they start to enter the conversation with the other big boys in the conference, he was essentially the missing piece for most of the season.
The one downside to Bryzgalov's turnaround? His quote-machine nature has stopped. I think Philly will take that trade.
For more hockey news, rumors and analysis, follow @EyeOnHockey and @BrianStubitsNHL on Twitter and like us on Facebook.