The growth of Nashville into a great hockey market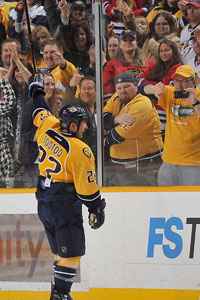 The Preds have become a hit in Nashville. (Getty Images)
Go to Nashville for a hockey game and you might see one of the cooler traditions in hockey. If you're lucky, you might find yourself amidst a spontaneous standing ovation lasting an entire television timeout.
"It actually started four years ago during the 07-08 season," Predators Senior Vice President of Communications Gerry Helper said. "We were making a late run to try and get into the playoffs. It was really an unbelievable underdog type story.
"As we got down to the stretch I remember this game where we had a one-goal lead with about five minutes to go and the TV timeout. We just had a good shift or whatever, a great save or a scoring chance, but the whistle blew everybody knew it was the TV timeout and it was almost as one the crowd stood and gave a spontaneous standing ovation that lasted through the entire television timeout. To game ops' credit they did nothing. No music was played, nothing. The crowd carried it.
"It has progressed. It seems to happen now with a little more regularity. It remains one of the most impressive moments you can see in a game where in this day in age when so much is encourage by scoreboards, message boards, this one is self-generated by the fans, their passion, their energy for the game."
Yes, that's Nashville, Tennessee we're talking about. Unbelievable underdog story? Well that could more than just the team that was going through ownership turmoil. I mean, hockey not only surviving but thriving in the South? That's what's happened in Nashville.
The city of Winnipeg has received its praises for the support and completely raucous environments at their games this season and rightfully so. But when you're talking about great atmospheres in the sport, Nashville is going to be up that list, way up.
"It's an exceptional atmosphere," season-ticket holder Mark Willoughby said. "What you see is a rowdy -- not uncomfortably rowdy -- but an energetic crowd that sort of takes on the air of a college game. Lots of chants, lots of cheers, lots of opportunity to really get into the game."
Yes the Predators have improved on the ice. Yes, that helps build and maintain a strong following for a franchise as long as it continues to put out a competitive product. No, the team's success isn't the whole reason why.
One thing that has helped it flourish in a city that you wouldn't normally associate with ice hockey is the fact that they have created their own brand of hockey. They did try to mimic other teams to duplicate success, they made hockey fit into Nashville, not the other way around.
That's why hockey has its own "brand" name when you talk about the Predators: Hockeytonk.
[Hockeytonk] is our brand of hockey that brings the excitement and atmosphere that exists on lower Broadway right across from the building which is such a unique area," Helper said. "There's no other area like that. There's bars and establishments in every city, but there's only one stretch of hockeytonks. You know you're in the Music City."
"It is an event. Not a game, an event," Willoughby added. "You just look down Broadway and you just see a sea of Predators jerseys toward the arena. That festive atmosphere that was out there on the street moves into the building and it gets pretty electric at times."
The proof is in the pudding too. The Predators have had 20 sell out this season. Helper said they're expecting the last five games to be at capacity as well. The television ratings are constantly improving as well.
"It really is [becoming a good hockey market]," defenseman Ryan Suter told CBSSports.com earlier this season. "The fans get better every year. They get -- I don't know how to say it -- more educated I guess. It gets bigger and bigger every year. The ownership group is doing a great job getting fans in the building."
Again, credit to where it is due. David Poile and Barry Trotz have combined to build a strong and solid franchise foundation on the ice. Now with the team competing at a high level and showing saying it wants to stay at that high level, well there's little better recruitment tools for fans than that.
"You cannot underestimate at all, from a fan perspective, the impact of signing Pekka [Rinne] before the start of the season. You cannot do it," Willoughby said. "Then all of a sudden the fan base woke up and said 'look at this, these guys are really serious.' That was a pretty big sign there."
But a little extra flair doesn't hurt to bring in fans as well.
You never know exactly what you're going to see at a game in Nashville, and I'm not talking about those standing ovations here. No, you could see some of country music's biggest stars perform. Some like Carrie Underwood, the wife of Predators forward Mike Fisher. Or maybe Vince Gill, a season-ticket holder who will do his part to entertain from time to time at intermission. Heck, he'll even bring along golfing buddies like Alice Cooper, as he did last season.
The relationship between the country music scene in Music City and the Predators began before there was even a team on the ice.
"Before we even had the team we had a season-ticket holder campaign, with no players yet, one of the things was reaching out to the music community," Helper said. "We did a takeoff of the Got Milk campaigns and got a handful of music stars to allow us to use their likenesses and we blacked out their two front teeth. The stars gave us some credibility."
It's been a happy marriage between country and ice hockey, even if it might seem unorthodox.
"I can't say whether it's been their initiative or ours, but it's worked," Helper said.
The same can be said for the NHL in Nashville.
For more hockey news, rumors and analysis, follow @EyeOnHockey and @BrianStubitsNHL on Twitter and like us on Facebook.