Jets can keep the belief after three-goal comeback against Capitals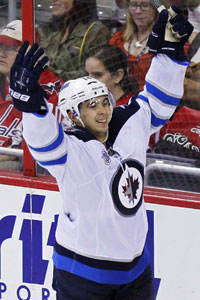 Tim Stapleton revels in the glory of his OT winner. (Getty Images)
WASHINGTON -- In the biggest game of their season, the Winnipeg Jets had laid an egg. Well, that's what the scoreboard said at least. They were down 3-0 to the Washington Capitals , in Washington. It looked like just another road loss coming, this one knocking them out of the playoff race for all intents and purposes.
Then a flip switched. The Jets woke up. And the Jets saved their season long enough to fight another day.
Or as Karl Alzner of the Capitals put it, "We [expletive] the bed."
It might have seemed miraculous. The Capitals entered the night as only one of two teams in the league that had yet to lose a game they led after two periods. It's not often that you overcome 0-3 holes, especially to a team playing as well as the Capitals have been of late. Twitter was filling with eulogies to the Jets' season, as good of a story as it had been.
"In the second period they [the Capitals] had a really good start and they looked like they smelled blood. They really looked like they were coming in," Jets coach Claude Noel said after the game. "That's the reason why I called a timeout, just to get the moment shifted because it was clear they were really going and generating some excitement on their own bench. But we battled and got back in the game."
Ah yes, the ol' momentum flip. That was just one of the two big flips, that timeout from Noel. The other?
"We needed a spark. The spark that really came on for me was the [Jim] Slater fight," Noel said. "I think that's really got us going. I think that really showed the rest of the players, the rest of the team that we need to battle here, we need to keep going. I think that was a real statement. If you look at the game after that fight I think it's really clear our team got energized from that."
You can credit the belief from both the coaching staff and the players, they never wavered.
"You gotta give credit to the coaching staff," said Tim Stapleton , who scored the winner in overtime. "They stayed positive. It's such a psychological game where if you're negative, if you keep being negative ... we just stayed positive. The timeout was more just, you know, get the next goal and we didn't! We didn't even stick to the plan. But we just hung in there. We did it together."
NHL Playoffs
More NHL coverage
This game can serve as a microcosm for the rest of the season for Winnipeg. At least the mindset they'll need to carry with them in the final stretch of games, starting on Saturday night in Nashville.
Down in that big of a hole with their season more or less on the line, they felt the sense of urgency.
"Yea, we did," Blake Wheeler said. "You lose clean in regulation and, coming back from seven with eight games to go is a tall task. We were feeling good about our game, about the way we were playing. It was just sticking with it. The hockey gods were smiling down on us, they rewarded us for our hard work tonight."
Forcing the game into overtime was a win enough considering the mountain they faced about half way through the game. Getting the second point with Stapleton's OT winner was icing. As Wheeler said, beggars can't be choosers.
"I also saw us go into that desperation mode," Stapleton said. "I don't think I've really seen that between us. We were just pressing and pressing."
It wasn't Stapleton's first OT winner of his career. He scored one last season against Carolina too.
"I don't score much so I can remember these," Stapleton laughed. But this one might be a little more memorable, especially if it allows the Jets to crawl back into the playoff race, something they were on the verge of falling out of on Friday night.
I don't want to blow this out of proportion. There is still a massive hill to climb if the Jets want to give the NHL a reminder of what playoff hockey in Winnipeg looks like.
"It keeps us in it. We should be excited about that," captain Andrew Ladd said of Friday's victory. "Obviously it's still going to be a tough road and we head to Nashville tomorrow with a little confidence from the way we played the latter half of that game. Hopefully we can carry that over to tomorrow.
"I think we're comfortable with what we have here, we're confident in what we can do. We have a lot of belief in this room and we showed that tonight."
There is no shortage of belief from this team. Quite frankly, they've beaten the expectations this season. Before the year nobody would have batted an eye lash if you said the Jets weren't going to make the playoffs. That was the expectation from almost everybody. But now this team has the audacity to believe. And with wins like this one over the team they are chasing for a playoff berth, why not believe?
More from Eye on Hockey
Alzner with a colorful description of Caps' loss
Recap: Jets 4, Capitals 3 (OT)
For more hockey news, rumors and analysis, follow @EyeOnHockey and @BrianStubitsNHL on Twitter and like us on Facebook.