Teemu Selanne: 'There's more inside me that wants to play than retire'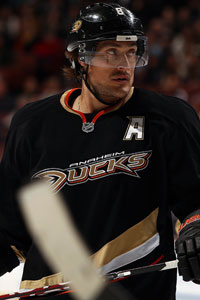 Selanne has 23 goals and a team-high 62 points this season. (Getty Images)
I rarely (see: never) find somebody who is a fan of hockey and doesn't enjoy watching Teemu Selanne still, even at the age of 41. It's not like he's lost much of his game, if any. He's still a very productive player, even leading the Ducks, who have some superb offensive talents, in points.
But when you get to be 41, everybody wonders if this will be your last visit to your arena. Every stop is a semi swan song for the most accomplished Finnish player in NHL history, statistically speaking. Nobody knows if Selanne will return next season or not, so we're left wondering.
Just the same as years past, Selanne is going to take time this summer to think about it. He'll let the Ducks know if he's coming back for another season by July 1, the beginning of free agency. The thinking obviously is that if he doesn't return, it gives the Ducks a chance to try and find a replacement to sign ... as if anybody could replace Teemu.
While he isn't saying much because, frankly, Selanne doesn't even know himself, it doesn't sound like he's ruled out a return at age 42 one bit.
"There's more inside me that wants to play than retire," Selanne told Jeff Miller of the O.C. Register. "But it's got to be 100 percent when I make the decision.
"I want to feel like I have to start working again, start getting ready. That's the feeling I want to have again. That's a good feeling. That's when I'll know if I still want to do it."
This season Selanne has surpassed his boyhood idol Jari Kurri on a lot of the Finnish NHL records, including points. Night in, night out, he's been the best Duck this season. That's amazing to me at 41.
"There are a lot of days where I say, 'What am I doing here?'" Selanne said. "But there are more days that I say, 'This is awesome.' The emotions go high and low. I've learned over the years to not think about this stuff during the season."
He'll take his time after the season and ponder it. But for what it's worth, after having the one-on-one with Selanne, Miller believes that the Finnish Flash isn't finished yet.
I know I hope not. There is nothing in Selanne's game that makes you think he's a day over 31, let alone 41. I mean it's not often you see a guy his age with 23 goals and 39 assists in 75 games. So yes, even more amazing, if you will, is the fact that he's staying healthy at his age. Physically, there's no reason for him to retire. Selfishly, I hope he doesn't.
For more hockey news, rumors and analysis, follow @EyeOnHockey and @BrianStubitsNHL on Twitter and like us on Facebook.