Islanders have all but removed Pat LaFontaine from team's history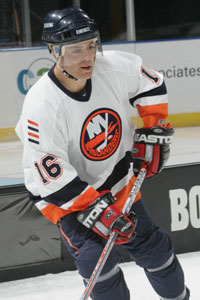 LaFontaine wears Isles gear in a 2005 charity game. (Getty Images)
The New York Islanders always seem to find ways to make you not like them. One of those ways is to ex-communicate great players from their past.
Here's a rather illuminating article from the Wall Street Journal about how the Islanders have pretty much wiped Pat LaFontaine, the NHL Hall of Famer, out of the organization.
To coincide with its 40th-anniversary celebration, the franchise created and distributed to its season-ticket holders 42 keepsake tickets. Each featured a notable Islanders player, coach or executive. None featured LaFontaine.

In September, he and former Islander Steve Webb biked 550 miles over 48 hours, from Toronto to New York, to raise money for charity. The Islanders issued a news release on their website about the event. The release mentioned Webb, but not LaFontaine. The Islanders confirmed these events happened but didn't comment.

The franchise has not retired his jersey; forward Marty Reasoner wears No. 16. And though LaFontaine was inducted into the Hockey Hall of Fame in 2003, the Islanders have yet to induct him into their Hall of Fame.
There's more in that story, too. It's just sad. I don't get it, honestly.
Yes, this has an origin, it's not just out of pure hatred. LaFontaine stepped down from his role as an adviser after owner Charles Wang fired GM Neil Smith in 2006. LaFontaine had only been in the position for 40 days but didn't like what he saw and left. Since then, he's essentially been banished.
It seems so stupid to me. Why hold a grudge and then take it to this level or something so stupid? There was a philosophical difference in the way the organization should be run and LaFontaine realize he didn't fit, so that's reason for erasing his existence like a vanishing photo in Back II the Future?
While Wang only had a pretty insincere-looking statement about wishing LaFontaine "all the best" for the Journal, Mike Milbury was of course willing to talk. Milbury, the former GM of the Isles, held a position on the team's board of governors at the time of LaFontaine's resignation.
"Pat ran for the hills. Pat ran for cover," Milbury told the Journal. "It was cowardly, and it was terrible. And if Charles was [ticked], I wouldn't blame him in the least."
Be ticked? Fine. I'm not begrudging Wang's right to dislike what LaFontaine did and not want to have a personal relationship with the guy anymore. That's reasonable. I still would think it's dumb, but it's reasonable. However taking the steps they have to essentially deny LaFontaine's existence (and excellence) as an Islanders player is taking it way too far.
For Pete's sake, his number is retired by the Sabres. No reason is good enough right now why his number shouldn't be retired by the Islanders, too.
Phil Esposito has made it clear that his allegiance belongs to the Lightning now instead of the Bruins. He openly stated he was cheering for the Bolts last playoff season against the Bruins. Still, not even he is being completely phased out like LaFontaine on Long Island, a place where LaFontaine has stayed since retiring and become a fixture in the community.
I just hope that this story from the Journal perhaps puts enough egg on the face of the Islanders so that they at least reconsider and give LaFontaine the proper respect he deserves for what he accomplished.
For more hockey news, rumors and analysis, follow @EyeOnHockey and @BrianStubitsNHL on Twitter and like us on Facebook.