Daniel Sedin out for Game 1, father says he hasn't fully recovered yet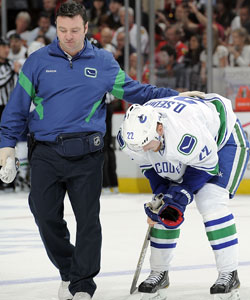 Sedin had 30 goals and 37 assists in 72 games. (Getty Images)
Daniel Sedin is not ready to play for the Vancouver Canucks as they begin the postseason on Wednesday night against the Los Angeles Kings. That's what his father told a Swedish newspaper.
Since he took a high hit from Duncan Keith that earned the Blackhawks defenseman a five-game suspension, there was plenty of optimism that Daniel would be ready to rejoin the Canucks in time for the playoffs. But we know all-too well now that with concussions, no timetable is ever set in stone.
Talking to Allehanda in Sweden, Tommy Sedin said now is not the time for his son to return to the lineup. Thanks to a Swedish friend's translation -- not Google -- here is what Tommy had to say.
"He hasn't fully recovered from the injury yet. It's too early for him to play already."
In Daniel's absence, the Canucks finished the season by winning eight of their final nine games. However, only one of those came against a playoff team, and that was a 1-0 win over the Kings. Having players like Daniel Sedin out of the lineup is never a good thing.
There was talk on Tuesday about whether or not Daniel had suffered a setback. On Monday he was practicing with the regulars but on Tuesday he only skates with the injured players and scratches. Coach Alain Vigneault said after practice there was no setback, but then Daniel wasn't a part of the team's pregame skate on Wednesday either.
Afterward, Vigneault confirmed the suspicion that Daniel is out for Game 1.
AV: Nothing new to report on Daniel Sedin. Will not play tonight. #Canucks

— Vancouver Canucks (@VanCanucks) April 11, 2012
Hard to believe he would have been allowed to practice with the team and then not be able to practice the next two days if there weren't a setback. What makes the no-setback stance even more interesting? Here is something else Tommy Sedin had to say.
"He went 100 percent but had a headache afterwards."
Setback or not, perhaps its arguing semantics, but what's inarguable is that this isn't positive news for either Daniel or the Canucks.
This will be a very interesting story to follow as the playoffs go along. Now imagine if the Canucks and Blackhawks meet up in the second round and Daniel still isn't back. That would have some intrigue.
For more hockey news, rumors and analysis, follow @EyeOnHockey and @BrianStubitsNHL on Twitter and like us on Facebook.