Where it all went wrong for the Penguins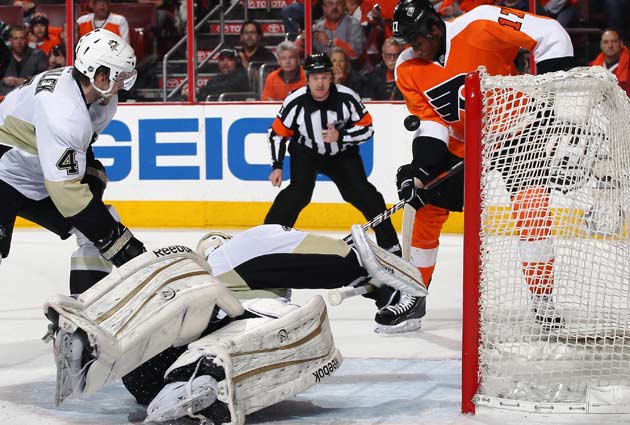 The Flyers attempt to score against Pittsburgh goalie Marc-Andre Fleury on Sunday afternoon in Philadelphia. (Getty)
On paper, the Pittsburgh
Penguins
looked like a team that could win the Stanley Cup. At the very least, they looked like a team that should have made it out of the first round.
But thanks to their 5-1 loss in Philadelphia on Sunday afternoon they were eliminated in the opening round for the second consecutive season. They have also now won just one postseason series since lifting the Cup back in 2009.
A lot of things went wrong for them against Philadelphia, even though they managed to make things interesting after falling in a 3-game hole to start the series. Still, there is a reason only three teams have been able to overcome such a deficit in the history of the NHL playoffs. It's nearly impossible to do, especially against a team with the type of offensive firepower that Philadelphia has.
So what went wrong for the Penguins? Let's look at a few of the areas that disappointed and/or underachieved (or were simply outplayed) during their opening round loss to the Flyers.
They were dominated on special teams
During 5-on-5 play the Penguins were actually pretty good in this series, and ended it with a 15-12 scoring edge over Philadelphia. The problem is that when somebody went to the penalty box (and it didn't matter for which team) the Flyers absolutely took over and dominated.
During the regular season the Penguins were one of the best penalty killing teams in the league, and finished with a franchise record penalty killing success rate. In the playoffs, they were horrible and never had an answer for anything Philadelphia did. They finished the series successfully killing off just nine of the Flyers' 23 power plays. That's not going to get the job done. If the Penguins were able to improve their penalty killing in this series to a level that was simply
bad
as opposed to awful, the series might have gone to a seventh game or had a different result.
But let's not overlook the (at times) momentum crushing power play, which also had a hand in the defeat.
The Penguins were able to convert on nine of their 29 power play attempts, good enough for a 31 percent success rate. Compared to what the Flyers did in this series it isn't that great, but compared to other teams playing at a level populated by mortals it's pretty awesome. The problem Pittsburgh kept running into, however, wasn't that it couldn't score on the power play, it was that it kept allowing Philadelphia to not only create shorthanded chances, but also score shorthanded goals. Some of them at huge, back-breaking moments, such as the two the Flyers scored in their Game 2 come-from-behind win.
How bad is it to allow three shorhtanded goals in a single playoff series? Consider that in the first round of the 2012 playoffs only one other team (Vancouver) has allowed even one.
During the entire 2010-11 playoffs only one team (Vancouver, which played 25 games) allowed more than two.
Claude Giroux was better than Sidney Crosby and Evgeni Malkin
Claude Giroux was the best player in this series and consistently outplayed Pittsburgh's best players. At no point was that more perfectly illustrated than the opening minute of Game 6 on Sunday.
Giroux crushed Crosby right off the draw with a big, clean hit, and then came back with his eighth goal of the series to give the Flyers a 1-0 lead and open the floodgates. He did all of that in the first 32 seconds of the game.
The statement was made, the tempo was set, and the Flyers never looked back. And Crosby wasn't heard from much after that on Sunday.
Evgeni Malkin's struggles with Sean Couturier have already been documented in this series (
here
and
here
).
Ilya Bryzgalov struggled, but not as much as Marc-Andre Fleury
If you would have told me before the series that Ilya Bryzgalov would finish with a .871 save percentage and look to be on the verge of losing his mind after allowing one more goal, I would have figured the series to be over in Pittsburgh's favor within five games. Heck, after a random goal in Game 2 Bryzgalov looked to be so out of sorts that he threw his stick with such force that it nearly ended up in the stands. And that was in the third period of the second game -- a game his team ended up
winning
.
But he still had a better series than Marc-Andre Fleury.
Make no mistake, the Penguins defense did not help matters. They were bad, and they gave up way too many chances. But the play in the crease was just as bad, and at times, it was worse.
Not only did Fleury finish the series with one of the worst save percentages in NHL playoff history, some of the goals were the type of tissue soft goals you just can not give up in a playoff game.
He helped steal Game 5 for the Penguins in Pittsburgh, but the rest of the series was a pretty forgettable performance.
For more hockey news, rumors and analysis, follow @EyeOnHockey and @agretz on Twitter and like us on Facebook
.