Zdeno Chara, Shea Weber, Erik Karlsson finalists for Norris Trophy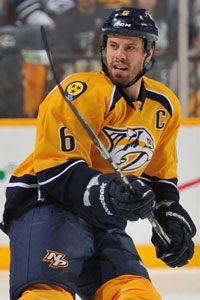 Will Weber win his first Norris Trophy? (Getty Images)
Who was the best defenseman in the NHL this season according to the Professional Hockey Writers Association? It was one of these three, the finalists for the Norris Trophy: Shea Weber of the Predators, Erik Karlsson of the Senators and Zdeno Chara of the Boston Bruins.
You'll recognize a couple of familiar faces among the finalists. Both Chara and Weber were up for the award last season as well, but both lost out to Nicklas Lidstrom of the Red Wings. Clearly a new player will win the trophy this season and we'll find out who on June 20 in Las Vegas.
The Norris race was an interesting one all season. You have a player like Karlsson who had a record-breaking year in terms of offense from a defenseman. He was doing laps on the other blueliners in the league with his point total this season, making him so outstadning in one facet of the game that he just had to be the winner in some people's minds.
In Chara and Weber you have two much more all-around defensemen who will contribute on both ends of the ice. You also have the two heaviest shots in the NHL with these guys, them competing in the All-Star skills challenge for hardest shot every year. It's like Magic vs. Bird or something just, you know, on a much more meaningless level.
Since they are easy to compare with actual tangible evidence and all, let's compare the offensive numbers of the trio first.
Karlson: 19 goals, 59 assists, 78 points in total
Chars: 12 goals, 40 assists, 52 points in total
Weber: 19 goals, 30 assists, 49 points in total
As you can see, Karlsson is far ahead of the pack in his offensive output. It would be hard to understate the value he brought to the Senators this season from a puck-moving standpoint. The question with the Sens is who deserves more credit for their surprising season: Karlsson or MacLean? You could make the arguments for both.
Where he starts to lose ground in the argument is when people begin to consider the other side of being a defenseman. You know, playing in your own zone. Karlsson deserves a lot more credit than he receives for his ability to defend, but he's still not in the same class as Chara and Weber here.
But here's where I get stuck with Chara. Whenever I think of him as a Norris finalist this season all I can remember are some of the awful turnovers he had in his own zone to lead to goals for the opposing teams. He had some plays that didn't really look like those of a Norris winner to me. Sorry, but this is my lasting memory of Chara this season. I don't know why, he was certainly still an elite dman this season, it's just that this is what I remember.
I personally feel that the third nomination should have gone to Alex Pietrangelo of the Blues. He had an excellent season at both ends of the ice. I believe the reputation of Chara helped him earn a nomination in this spot.
In the end I think it will come down to Karlsson and Weber (pretty obvious by now, isn't it?) It will become a question of how many thought Karlsson's offensive numbers were just too strong to ignore . I don't think it will be enough and my prediction is that Weber will win his first Norris.
For more hockey news, rumors and analysis, follow @EyeOnHockey and @BrianStubitsNHL on Twitter and like us on Facebook.