Rangers prevail in marathon madness on Marian Gaborik's 3OT winner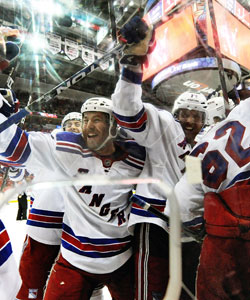 The celebration was on after almost 120 minutes of hockey. (Getty Images)
WASHINGTON -- Marathon hockey is a beautiful thing. It's also ugly. When you reach triple-overtime like the Rangers and Capitals did in New York's 2-1 win in Game 3 of their Eastern Conference semifinal, the game stops being pretty. Sometimes the only thing that keeps you watching is knowing it will end instantly. That's the appeal.
To be honest, the hockey becomes much more dull, often a case of not making the mistake instead of making the memorable moment. The players are so tired, so spent, they have nothing left. It's not lazy when the backchecks are two strides too slow; it's exhaustion.
Heck, the goalposts made as many saves as the goalies in the overtime, it seemed.
The players aren't a picture to behold either. In fact, they're ugly.
They look like Ryan McDonagh of the Rangers, he of 53:21 of ice time on Wednesday night/Thursday morning alone, still telling coach John Tortorella that he's ready for more but looking like he's been through a war.
They look like John Carlson of the Capitals, the young defenseman who played 39:19 and blocked seven shots, each more painful than the last on an aching body.
They look like Brian Boyle, whose sweater was stained with his own blood and his bum probably red too after blocking a shot perfectly in front of the net to keep the game tied in the second overtime ... a shot from teammate Mike Rupp.
They look like Mike Knuble, who sported a blood-soaked band-aid above his eye with a crimson streak going down his cheek like a tear through mascara.
Then there is one guy that looks like Marian Gaborik, the man who scored the game-winner, seemingly the only one left with any energy to even smile.
And it was a big, big smile. Because not only did Gaborik score a triple-overtime winner in the longest Rangers game since the 1930s, but he scored his first goal in the last nine playoff games. With every minute that passed another ounce of pressure built.
Then, relief.
"It's been awhile so it feels great to contribute and get on the board, especially in this type of game," Gaborik told the gathered media. "It was about time to go in."
I don't know if Gaborik intended it that way or not, but it was about time it went in. Both teams were starting to enter new logs in the media guides for franchise records. In addition to the Rangers' longest game in close to a century, this was the longest game the Capitals have ever played at their new home, Verizon Center.
There is little in hockey more exciting than a long overtime game. People remember where they were when they happen. Dallas and Anaheim in five overtimes back in 2003? Sitting on my couch in college, staying up way past bed time to watch Petr Sykora win it.
But at that point the emotions get blurred. The distinction between elation and exhaustion is very, very fine.
"I just jumped up in the air," Rangers defenseman Marc Staal said. "I think it's relief almost. You put so much heart and emotion into it. To see it cross the line it's obviously elation but you're just relieved to get a win after that hard work."
Even jumping probably hurts at that point.
"I think my entire body is just tired right now," Henrik Lundqvist said after stopping 45 of the Capitals' 46 shots. "I just want to lay down and relax and get a massage. My neck is hurting.
"That's the toughest thing -- it's in your head. After the fourth period I think it's all in your head. It's not so much your technique or your physique -- it's just 'how much can you push yourself?'"
The answer is a lot.
"When you get into that many hours of playing it becomes a mental game," Tortorella echoed. "I felt as the game got longer and longer I felt that our team was at an advantage. I think we have a mentally tough group."
A few between-overtime refreshments don't hurt either. Assuming you can be refreshed at that point in a game.
"I think I had like five bananas, so that was a start," Staal recounted with a laugh. "A lot of Gatorade, a bunch of smelling salts and things like that so you're muscles don't cramp up.
"Physically it's tough obviously, you just run out of gas a lot quicker. It's like 10 or 15 seconds and your legs just leave you again."
After the first overtime, there were fans leaving Verzion Center to try and catch the Metro, Washington's subway system, before it closed for the night. Those people missed out, for even on the losing side an ugly game with an ugly outcome for the fans in red, it's still pretty beautiful to behold.
"You dream about that as a kid," Boyle said of overtime playoff hockey. Well I'm sure he'll be having some sweet dreams after a hard-night's work, too.
Because at some point it stopped being pretty but became beautiful.
For more hockey news, rumors and analysis, follow @EyeOnHockey and @BrianStubitsNHL on Twitter and like us on Facebook.