Kings complete sweep, and that might be a big deal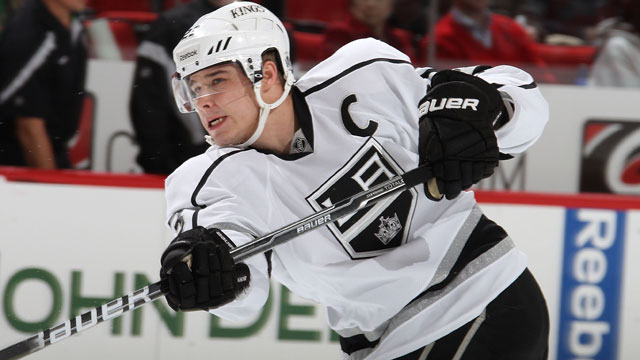 Dustin Brown scored the game-winning goal for the Kings on Sunday, and has been a big part of their playoff success.(Getty Images)
With their 3-1 win on Sunday afternoon the Los Angeles Kings completed a four-game sweep of the St. Louis
Blues
and advanced to the Western Conference Finals for the second time in franchise history.
Moving on is great for them, but their ability to eliminate the Blues in four games is also a huge -- and potentially important -- development.
The NHL playoffs are a grind played a ridiculous pace after a grueling 82-game regular season. Any additional rest a team can get during the "second season" has to be a huge advantage. The Kings have been able to roll through the first two rounds in just nine games.
Recent Stanley Cup winners all have one thing in common when it comes to their road to the finals: at some point in the postseason they've all had the luxury of getting through a short series, and in many cases, a sweep.
Seven of the past 11 winners, going all the way back to the 2000 playoffs, swept an early round opponent. Of the four teams that didn't, each one of them played at least one, and in most cases, two, five-game series. The last champion that didn't have a sweep at some point in the playoffs was the 2006-07
Ducks
, and three of their four postseason series that year ended in five games.
Perhaps that speaks to the level of talent a Stanley Cup winner has and its ability to dominate its opponents. But I don't think you can rule out the benefit of any additional rest a team can get in this situation. If you can play a few less games than your next opponent and avoid the brutality of the playoffs for a couple of days that almost has to be some sort of an advantage.
The Kings have lost just one game this postseason, and became the first No. 8 seed to knock off the No. 1 and No. 2 seeds in the current playoff format. And they did it in pretty dominating fashion, having outscored the Canucks and Blues by a 27-14 margin.
Los Angeles will now await the winner of the
Coyotes
-
Predators
series (Game 5 is on Monday, and the Coyotes can advance with a win).
It's the first time the Kings have advanced to the Conference Finals since the 1992-93 season when they went on to lose the Stanley Cup finals to the Montreal
Canadiens
.
For more hockey news, rumors and analysis, follow @EyeOnHockey and @agretz on Twitter and like us on Facebook.