Canucks sign GM Mike Gillis to extension; Is Alain Vigneault next?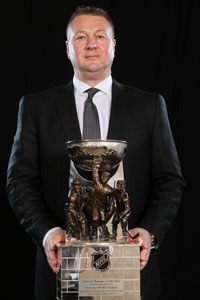 Gillis poses with his hardware from last season. (Getty Images)
In a move that isn't the biggest surprise you'll hear all day, the Vancouver Canucks have signed general manager Mike Gillis to an extension. The team announced the deal on Monday evening.
The Canucks were bounced unceremoniously early in the playoffs this year in just five games by the L.A. Kings. In a city like Vancouver, where the fans are so hungry for a Stanley Cup and the expectations were that they would finally get it this year, the reaction to the team losing that quickly wasn't positive, and it seemed as though many were advocating a new approach up and down the organization.
Obviously Gillis is coming back and, presumably, that speaks well for head coach Alain Vigneault to return next season as well. His situation has been much murkier than Gillis', but Gillis appears to be one of Vigneault's big backers in the organization, so if Gillis gets an extension it would seem to be a good sign for Vigneault too.
"I am very pleased to be signing this extension to remain the President & General Manager of the Vancouver Canucks," Gillis said. "I am proud of the work our entire organization has done these past four years and look forward to continuing to build on our success. We are driven every day to try and win the Stanley Cup and will continue to focus on being a strong organization both on and off of the ice."
I was starting to feel like Kevin Bacon in Animal House: "All is well!" It wasn't the end of the world that the Canucks got bounced that fast, nor did it mean it was time to blow things up.
When cooler heads prevailed, it was easy to see that Gillis still deserves his position. He was, after all, named the GM of the Year just last season. His team is still built well and was good enough to have the best record in the league this season. Gillis is responsible for building that roster.
"These past four years have been the most successful in Canucks history. Mike and his management team have done an excellent job to position us for long-term success on and off of the ice," Canucks Sports & Entertainment Chariman Francesco Aquilini said. "We believe Mike's presence in this organization is important to the long-term success of this hockey club, and we are confident that we will continue to compete at the highest level under his leadership."
For more hockey news, rumors and analysis, follow @EyeOnHockey and @BrianStubitsNHL on Twitter and like us on Facebook.