Kings dominate Coyotes in Game 1, win sixth straight road playoff game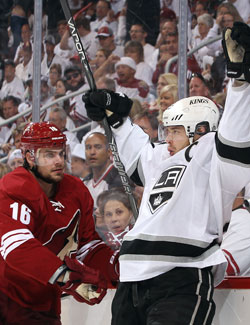 Brown celebrates his tie-breaking goal. (Getty Images)
If you have to assume, Game 1 of the Western Conference finals is exactly how this series between the Phoenix Coyotes and Los Angeles Kings is going to play out.
As you'd expect based on how their respective postseasons have gone so far, the Kings dominated play in Game 1. Yet with the benefit of some puck luck, the Coyotes stayed in the game. That's all allowed them to do, though: stay in the game.
Eventually the Kings won 4-2 and took a 1-0 series lead. It was also their ninth win in 10 postseason games and they are a perfect 6-for-6 on the road.
It's because the Kings were too tough for the Coyotes. They are a total buzz saw right now.
They were unrelenting in their pressure despite being up at three different stages in the game. It was a treat to see after witnessing seemingly every other team go into a defensive shell in all the other playoff games this season sans Pitt-Philly.
How dominant were they? When the game was all said and done the Kings had 48 shots on net; 17 in the first period, 17 in the second and 14 in the third. They attempted 90 -- 90!! -- for the game. That's an awful lot of puck possession for one team and not a lot for the other.
"The execution and the will to get things done is going to have to improve greatly if we're going to have a chance in this series," Coyotes coach Dave Tippett said after the loss, saying he needs to find a way to get his team to play better.
If that qualifies as dominant, then what word can be used to describe the Anze Kopitar-Dustin Brown-Justin Williams line? Check out what they did in Game 1 from my colleague here, Adam Gretz.
Anze Kopitar played 16:09 at Even Strength tonight. During that time LA outshot Phoenix 22-4. Phoenix might want to find an answer for him.

— Adam Gretz (@AGretz) May 14, 2012
That doesn't even make mention of the goals from Brown and Kopitar in the game. As I said, this team is a buzz saw and that line has the sharpest teeth.
Just in case you needed any more proof of how strong the Kings were in Game 1, consider this: Dwight King scored two goals for L.A.. That's right, King scored twice -- one into the empty net, but it looks the same in the box score.
You can be forgiven if you have forgotten the Kings are the 8 seed in the West.
For more hockey news, rumors and analysis, follow @EyeOnHockey and @BrianStubitsNHL on Twitter and like us on Facebook.