Devils launch 'No Blue' campaign to keep Rangers fans out of The Rock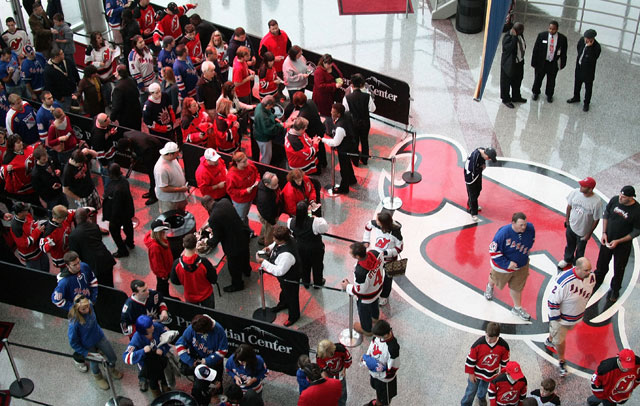 There is too much blue at The Rock. (Getty Images)
As Devils captain Zach Parise will admit, the Rangers are the bigger franchise in the New York metro area. It's really not even close. Whenever the Rangers play at either the Islanders or the Devils, there are a ton of blueshirts to be seen and fans to be heard cheering for the "road" team.
"We understand in this area that the majority of the people are Rangers' fans," Parise told the Bergen Record. "That's the way it is. What do you do? You see it when we play at home. There's a lot of Ranger fans in our building. It's just they have a bigger fan base. That happens. That's fine."
But it shouldn't be fine, Zach.
The Devils are ready to make it stop. They don't want to see the Rangers fans invading the Prudential Center and they have a three-step plan to reach that end that they're calling "No Blue."
The steps? Why they're pretty simple really.
• If you own seats and have to sell for any of the home games because of conflicts, do NOT list your seats on the secondary market. Blogs such as Fire and Ice, In Lou We Trust, and HFBoards provide you with outlets to speak directly with other Devils fans who are looking for seats. This will ensure you are selling ONLY to other Devils fans. You can ask for pictures or meet them to deliver tickets, to ensure where their loyalty lies.

• If you are unsure about conversing on Devils blogs to sell your tickets, you can call the Devils Fan Experience Team line at 855-DEV-ARMY, and as a service they will help you sell your seats you can't use, to other Devils fans.

• If you do not own seats already, visit secondary market ticket sales websites including Ticket Exchange to purchase your tickets immediately. Thousands of seats still remain for both Rangers home games at The Garden. Therefore, there is a window right NOW, for Devils fans to swallow up all the remaining tickets for the upcoming Devils home games at the Rock. Seize that opportunity now while it is still available.
Well, that's fool-proof. Now I say good luck in actually achieving it. The Rangers fans will get into the arena, you know that. There are plenty of people buying tickets only to sell them for profit, they won't care who is buying the ticket as long as the money they pay with is real.
You might remember the Florida Panthers launched a campaign before this season with the same idea in mind: keeping visiting fans out. If you watched any Panthers games you know that it didn't really, especially when the Canadiens visit.
The Predators also had a similar push to avoid Red Wings fans from taking over the arena for their playoff series called Keep the Red Out. It worked well, but probably as much for fervent local interest in the Predators than anything else.
Even with this push, I don't think you'll have to listen very closely to hear a "Let's go Rangers!" chant in Game 3.
H/t to Deadspin
For more hockey news, rumors and analysis, follow @EyeOnHockey and @BrianStubitsNHL on Twitter and like us on Facebook.