Kings take over after huge PK, move one win from first Stanley Cup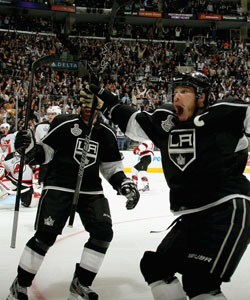 L.A. is close to setting off the celebration. (Getty Images)
LOS ANGELES -- Paging the fat lady. Fat lady, please report to Los Angeles. I repeat, please report to Los Angeles. It's time to start singing.
The Kings are now just one game away from the first Stanley Cup title in franchise history after routing the New Jersey Devils 4-0 in Game 3 on Monday night. It was just another all-around outstanding performance in a postseason chock full of them.
They had highlight-reel goals. They had unbelievable goaltending. They had impenetrable penalty killing. They had their fans chanting "We Want the Cup! We Want the Cup!" In Los Angeles that's sweeter than any music coming out of Nokia Center across the street from Staples Center.
"We hear it. It's exciting," Kings forward Jarrett Stoll said. "Anytime the crowd gets going it's exciting. You get pumped up. You feel the chills go through your body, especially when they're chanting that. It's pretty cool."
Want to know how good this team has been all postseason long? They are the first team since the NHL adopted the current playoff format to start all four rounds with a 3-0 series lead. Think about that, the Kings, the eight seed in the West, have had a chance to sweep their opponents every round.
They will get that chance against the Devils on Wednesday on home ice.
Even if they don't get it, if it takes them an extra game or two, this series is all but done. There is no way the Kings, who have lost two games all postseason long, are going to lose four games in a row to the Devils, not this year.
However the Kings aren't going there, not yet. Like any team that knows what the goal is, they aren't celebrating.
Kings-Devils: Game 3
Related links
More NHL coverage
"We're a focused group right now," Justin Williams said. "We're tasting that we're close."
"Not being an overly superstitious guy, you still don't want to celebrate too early," Rob Scuderi nearly echoed. "It's one of those things, the excitement in the building, the enthusiasm, but as a player you have to temper that and realize there's still a job to be done, a game to be played."
They are hoping just one. After turning in as strong as a performance yet in this series.
But it didn't always look like it was going to get there. The Devils came out strong in the first period and were given a golden chance early.
Once again it was the Kings penalty kill, a force all postseason long, turning the tide in Game 3. There came a spot in the opening period when a defensive-zone turnover led to a glorious scoring chance for the Devils, which was kept out with the help of a Mike Richards penalty. Exactly one minute in Jeff Carter high-sticked Adam Henrique in the face, drawing blood and giving New Jersey a full minute of 5-on-3.
The table was finally set for the Devils to get the PP unit off the schneid. Momentum, she was a swingin' in the Devils' favor. That was until the Kings killed it. Gee, what else is new?
"It's a great momentum changer for us," Scuderi explained. "Anytime you go down 5-on-3, especially on a double-minor when you know he's going to be in the box for a little extra time you want to just get that kill and get moving. You realize if they score it's going to be big momentum. I thought the ability to kill of the penalty really gave us a boost."
From that moment on, minus a small push by the Devils to open up the second period, it was all Kings. They got the joint jumping and the momentum rolling. Next thing you knew the Devils were down 4-0 and all you could think was that this series was over. If New Jersey stood any chance of getting back in this series, it absolutely had to win in Game 3. Obviously they didn't.
Now Lord Stanley's Cup is going to be in the building, watching over Game 4 ready to be lifted in the air and find a new team to hang with this summer.
"If it changes anything I hope we just get a little more excited and bear down on our responsibilities a little more," Scuderi said. "If you start thinking about it too much you lose focus on what's in front of you."
Even if they took a wrong turn off the 105 late at night, it'd be really hard for the Kings to lose sight of what's in front of them right now, their first championship in team history.
For more hockey news, rumors and analysis, follow @EyeOnHockey and @BrianStubitsNHL on Twitter and like us on Facebook.