Alex Kovalev hoping an NHL team gives him a shot in free agency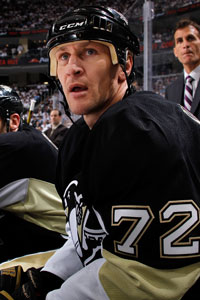 Last time we saw Kovalev in the NHL was with a Pens sweater on. (Getty Image
When Alex Kovalev decided to take a two-year contract in the KHL last summer instead of remaining in the NHL, I imagine I wasn't the only one that didn't think we'd see him playing in North America again.
But things went sour in Russia. Kovalev dealt with a bum knee, played only 22 games and was bought out by Atlant Moscow Oblast, making him a free agent.
Like the rest of the free agents, he'll be up for grabs on July 1 in the NHL and he told Dave Stubbs of the Montreal Gazette he's hoping he gets a call.
"Hopefully, I'll find an NHL team," he said. "The preference is always going to be a team I've played on [Canadiens, New York Rangers, Pittsburgh Penguins and Ottawa Senators] because you know the environment.

"And I'd definitely like to come back to Montreal. They're all about the young guys, but I can help in all different ways. And I can still play. I have a lot of energy."
Kovalev spoke most glowingly of his time in Montreal with Stubbs, a place he played for four seasons.
Keep a few things in mind here: Kovalev is going to turn 40 in February and his knee, which has been surgically repaired, is probably still a concern. Injuries such as that don't usually inspire a lot of confidence when you approaching that proverbial hill in life.
Moreover, his point total had decreased in each of the last four seasons he spent in the NHL, bottoming out at 34 points (16-18=34) in 2010-11 split with the Senators and Penguins. It didn't get any better in Russia. In those 22 games he had just five points (1-4=5). That doesn't really jump off the stats page, now does it?
First Dominik Hasek then Georges Laraque and now Kovalev ... maybe Jaromir Jagr's season inspired some veterans to try and get back in the game.
For more hockey news, rumors and analysis, follow @EyeOnHockey and @BrianStubitsNHL on Twitter and like us on Facebook.