Maple Leafs wanted Jordan Staal, but 'didn't have a brother named Staal'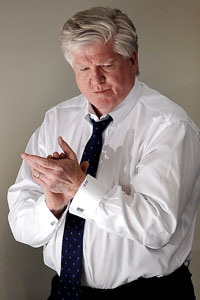 PITTSBURGH -- The Pittsburgh Penguins traded Jordan Staal on Friday evening and ended up coming away with a pretty decent package of players for a guy they were likely to lose for nothing next year.
The Hurricanes weren't the only team that appeared to be interested in acquiring him from the Penguins, and according to Toronto Maple Leafs general manager Brian Burke his team was one of the ones involved in the discussions.
There was just one pretty significant problem from their side.
"We didn't have a brother named Staal," said Burke on Saturday. "That's part of the problem. It's the same thing when we got Scott Niedermayer in Anaheim. We had a brother named Robbie and I'm sure that was a deciding factor for him."
The presence of Staal's older brother, Eric, in Carolina was a pretty major storyline over the past week when rumors started to circulate about his future. There seems to be little doubt his presence will be a big advantage for the Hurricanes when the two sides start to talk contract, as well as the fact that Staal (Jordan) will be able to take on a bigger role than the one he had in Pittsburgh playing behind Sidney Crosby and Evgeni Malkin.
The Maple Leafs have been trying to find a No. 1 center for years, and while Staal could have been that player Burke also admitted that the package of players Carolina sent to Pittsburgh was probably more than his team would have been willing to surrender.
For more hockey news, rumors and analysis, follow @EyeOnHockey and @agretz on Twitter and like us on Facebook.