Brandon Sutter the perfect replacement for Jordan Staal in Pittsburgh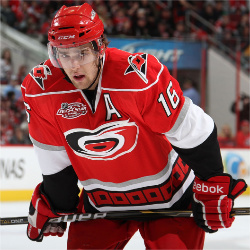 The Pittsburgh Penguins are going to miss Jordan Staal, but by trading him to the Carolina Hurricanes this past weekend they may have been able to pick up the best possible replacement in Brandon Sutter.
Of course, Sutter doesn't want to look at it as if he's replacing anybody. Especially a player as highly regarded and respected as Staal. But when you're traded for a top player and asked to fill his exact role on the team ... well, the comparisons will be inevitable.
"I'm coming to do what I've done," said Sutter during a conference call after joining the Penguins on Monday afternoon. "I'm my own player. I don't feel like I'm here to replace anyone. Jordan is obviously a great player, and playing against him he's a player you want to be like. Hopefully one day I can try to find that level he was at in terms of offensive numbers, and I think I can. But like I said I don't want to feel like I'm replacing someone.
"I'm going to a winning team where there's an opportunity, and I feel they chose me because they wanted me and I just look at it that way. I'm not trying to replace anyone, I just want to play my game and not worry about anything else."
Whether or not he wants to look at himself as a replacement, it works out perfectly for the Penguins since his game, and everything he's shown as an NHL player, is a perfect fit what they need on their third line to fill the void left by the Staal trade.
By now it was pretty well known that Staal was overqualified for the role he occupied in Pittsburgh (when the team was at full-strength, that is). Had he been playing on any other roster that didn't have the two best centers in hockey ahead of him he would have already been playing in somebody's top-six on a regular basis. He's now going to get that opportunity in Carolina -- where he will join his older brother Eric -- and should flourish with the Hurricanes.
The 23-year-old Sutter is the key to the trade for Pittsburgh, and he's a player that Penguins general manager Ray Shero said had to be included for the deal to be completed with Carolina. A former No. 11 overall pick in the NHL draft, Sutter has already spent four seasons in the NHL and is accustomed to the role he'll be asked to fill in Pittsburgh. That basically amounts to logging a lot of tough minutes against top lines, killing penalties, and handling a lot of the defensive duties that can help to free up the big scorers -- like Evgeni Malkin and Sidney Crosby -- to play in more favorable situations when it comes to offense.
"It's a role I like to play," said Sutter. "I enjoy playing against the other teams best players and trying to outplay them. I can remember coming into Pittsburgh and having to play against Crosby and Malkin, which wasn't always a lot of fun, but you try to find ways to do it."
Looking at the way the Hurricanes used Sutter last season it's clear the coaching staff not only trusted him to be in those situations, he was the guy they absolutely wanted to be out there at all costs as he played some of the toughest minutes in the NHL. Of the over 400 forwards that appeared in at least 30 games last season, Sutter was 17th in terms of the quality of the competition he was asked to face(Staal was 12th, for what it's worth).
2012 NHL Free Agency
| | |
| --- | --- |
| | Free Agency starts July 1 |
More NHL coverage
Whenever the Hurricanes needed a center to take a defensive zone faceoffs, Sutter was also the player they called on, starting 443 shifts at 5-on-5 in his own zone, compared to only 236 in the offensive zone. That split was one of the biggest in the NHL. He still faired quite well in that role, not only producing 17 goals to go with 15 assists offensively, but also playing a top defensive game.
How good was he defensively? When Sutter was on the ice at 5-on-5 last season the Hurricanes gave up fewer than two goals per 60 minutes of hockey (by comparison, the Penguins gave up 2.83 goals per 60 minutes when Staal was on the ice). Sutter played against the best players in the NHL every single night, and he helped to almost completely shut them down. Or as much as they could be shut down. I talked to more than one person over the weekend at the draft that felt Sutter should have received more attention for the Selke Trophy this season (he came in 21st in the voting, receing a second place vote, a third place vote and a fifth place vote) and that he could one day win one.
I wanted to compare Sutter's role to Staal's this past season, so I stuck his usage onto the Penguins usage chart (quality of competition, which is shown on the vertical, and offensive zone start percentage, which is shown on the horizontal) to see how it compared.
As always, this is a look at even strength situations only, and the closer a player is to the top left of the chart the more difficult the role. The closer to the bottom right the "easier" (relatively speaking ... it's never "easy" in the NHL) the role.
Obviously, they're both nearly off the chart in relation to the rest of the team when it comes to the situations they played in. There also needs to be a little context here as far as Sutter is concerned given that he played on a different team. One of the reasons he is so far back on the faceoffs is, at least in part, because the Hurricanes spent considerably less time playing in the offensive zone than the Penguins (mainly because they're not as good) and had to take more draws in their own end of the rink.
Still, the Hurricanes leaned on him to take more defensive zone draws than any other player on the team and his minutes were, as stated above, among the toughest in the NHL. Fewer players were buried in more difficult situations than he was, and he still came out ahead on most nights.
Defensively speaking the Penguins should be fine going from Staal to Sutter.
The one area they stand to see a bit of a drop is offensively, as I'm not sure Sutter has the type of upside Staal does when it comes to scoring. Still, Sutter said on Monday that he would like to find ways to create more offense, and that perhaps playing on a deeper roster and playing in a different system could help that. Sutter's most common linemates in in Carolina last season were Patrick Dwyer and Andreas Nodl. As things stand right now you could probably pencil him to play between Matt Cooke and perhaps Tyler Kennedy, which should be an increase in ability around him.
Staal is an outstanding player, and the Hurricanes came away with the best player in the trade. But considering the situation the Penguins were in, knowing they were going to lose him in a year for nothing (he turned down a 10-year contract from the team just days before the trade), they not only came away with an excellent replacement still signed to a cap-friendly deal for the next two years, but they also received two top defensive prospects in Derrick Pouliot (the No. 8 overall pick) and Brian Dumoulin.
That's quite a haul for a guy that was already on his way out.
For more hockey news, rumors and analysis, follow @EyeOnHockey and @agretz on Twitter and like us on Facebook.