Canadiens keep Carey Price with new six-year extension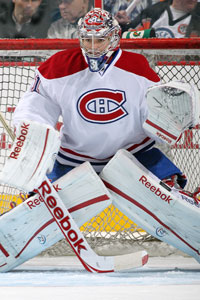 Price is going to be a Hab until he's 30 with this deal. (Getty Images)
The Montreal Canadiens have reached a deal with restricted free agent Carey Price, signing their goaltender to a new six-year contract. The team announced the deal on Monday evening.
The new deal will keep Price in the Habs' goal until he's 30. That's unless they trade him, of course. But right now that wouldn't seem to be a likely option.
You'll remember a few years ago that the Canadiens elected to not pay Jaroslav Halak and instead traded him to St. Louis and went with the young Price despite a less-than stellar start to his NHL career. The move has paid off well for Montreal, and now Price too.
Price was named to the All-Star team this past season, posting a 2.46 goals-against average and .916 save percentage despite the Habs' poor season. There were a lot of people to blame for their lack of success, but Price was not one of them.
So getting him re-signed to a long-term extension was one of new GM Marc Bergevin's most pressing tasks. Franchise goalies are good people to keep happy and around, especially when they are just 24.
As for the money? Well, here you go:
#Canadiens Price gets 39M for 6 yrs.#NHL cap hit 6.5M

— Nick Kypreos (@RealKyper) July 2, 2012
When the market was set with the signings of Ondrej Pavelec in Winnipeg and Jonathan Quick in Los Angeles, Price and his agent surely took notice, as did Bergevin. It surely upped the ante for Price's worth.
Pavelec came in at a cool $4.5 million per season for the Jets, and Quick is going to get a cap hit of $5.8 million. Quick's deal is also longer than Price's, which might explain the rather hefty annual gap between the two. The back end of Quick's deal likely tapers off to bring the cap hit down. Regardless, those two contracts helped set the tone for Price.
It might be a little expensive, but All-Star goalies aren't easy to find, especially when they're just 24.
For more hockey news, rumors and analysis, follow @EyeOnHockey and @BrianStubitsNHL on Twitter and like us on Facebook.