Not ready, Ryan Suter will take free-agency process to third day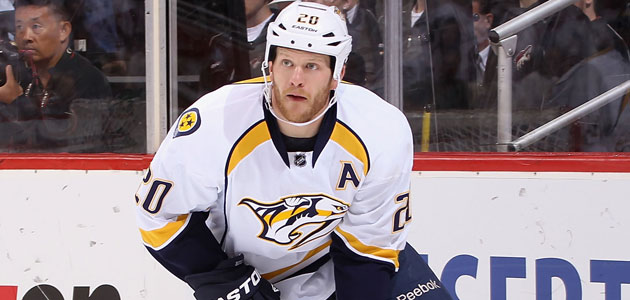 Suter is the prized blueliner of this class. (Getty Images)
Stop the presses! No really, stop the presses. The NHL's free-agency frenzy has officially ground to a halt.
This year's top free agent, Zach Parise, announced Monday that he wasn't ready to make a decision on where he'll sign. Well you can say the same for the top defenseman available and, for some, the best player out there, Ryan Suter.
Like Parise, Suter has entertained offers from the biggest buyers in free agency since the clock hit noon ET on Sunday. And, like Parise, Suter isn't ready to make a decision. Unlike Parise, Suter is sitting at home in Wisconsin instead of at his agent's office near Toronto. Still, his agent spoke up on Monday for Suter, who is much more of a quiet type.
Neil Sheehy on Ryan Suter: There will be no decision tonight and there is no timetable for his contract signing at this time (cond) #mnwild

— Michael Russo (@Russostrib) July 2, 2012
(cond Sheehy): "Ryan is considering his opportunities and is taking the necessary time to give each proper consideration." #mnwild

— Michael Russo (@Russostrib) July 2, 2012

Sheehy was a bit more forward about his feelings on Tuesday morning.

"When a young man is asked to commit for 13 years, why is it considered extraordinary to take a few days to make a decision?" he asked. "A deal will happen when it happens."

The tweets come courtesy of Michael Russo of the Minneapolis Star-Tribune. Why Minnesota? Well because the Wild are one of the teams making a push for Suter and Parise. They have money to spend and a roster that needs some sprucing, so they're going big.

It appeared for a bit Sunday night that the bidding for Suter was over, and he was going to sign with Detroit. But that report appeard premature. Although many have believed for months that the Red Wings were the favorite to sign Suter away from the Predators, it didn't happen or wasn't all that close to happening. If it were, he would have signed the deal by now.

Once again, like Parise, Suter has every right to take his time on a big career decision. Sure, it might be stopping all of the next-level players from making their decisions, but it's a pretty important call to make in one's life.

It led to Justin Bourne of the Backhand Shelf blog to bring up an interesting idea -- well, expand on an idea brought forth by Elliotte Friedman of the CBC. It's not often that its suggest the NHL emulate the NBA, but the Association might have it right with the way it handles free agency.

With the new CBA being negotiated this summer, something has to change. There's no reason guys shouldn't be allowed to hear everyone out in a manner more thorough than speed dating, and sit down with the people most important to them, and think.

I'm buying it. It makes a ton of sense for a negotiation-only period where players can hear the offers and then mull them over. It might take away from the excitement of Day 1 of free agency, but it might also help GMs save themselves from themselves.

In the NBA, teams can talk to players for a period of time before they can sign. It avoids situations like this and gives players time to consider their options without the pressure or silly criticism that they're taking too long.

Rarely does Day 3 of NHL free agency have the biggest moves, but if decisions from Suter and Parise come down Tuesday, that's what we'll be looking at.

More from Eye on Hockey

Parise says he will take more time

For more hockey news, rumors and analysis, follow @EyeOnHockey and @BrianStubitsNHL on Twitter and like us on Facebook.