Steve Sullivan signs one-year deal with Phoenix Coyotes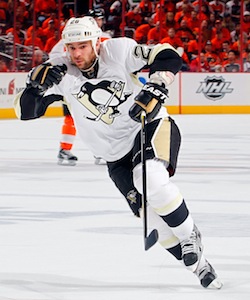 Veteran forward Steve Sullivan has found a new home, signing a one-year contract with the Phoenix Coyotes on Wednesday.
According to TSN's Pierre LeBrun the deal is reportedly worth $1.85 million, which is a small raise from what he earned as a member of the Pittsburgh Penguins this past season.
In 79 games with the Penguins he scored 17 goals and recorded 49 points, while he was also a welcome addition to their power play. That's an area that could be intriguing for the Coyotes as they were tied for the worst mark in the league on the man advantage this past season, and already lost one of their best power play forwards this summer when Ray Whitney signed his two-year deal with the Dallas Stars.
As always with Sullivan the biggest question mark comes down to his health and how many games he'll be on the ice for. It's been a problem for him throughout his career and he's managed to play more than 70 games in a season just twice since the start of the 2005-06 season. Of course, one of them was this past year when he seemed to be the only Penguins player that didn't suffer a significant injury.
He had a bit of a slow start with the Penguins but really seemed to pick his game up as the season progressed. At times it almost appeared as if he was pacing himself.
He started the season playing on a line with Evgeni Malkin and James Neal, but spent much of the second half playing alongside Jordan Staal and Pascal Dupuis. Obviously, he's not going to see that sort of talent around him (at least as it relates to Malkin, Neal and Staal) in Phoenix.
He still seems to have some mileage left and he's by all accounts a strong guy to have in the locker room. Given that it's just a one-year contract for a marginal raise on his salary last year, it seems like a good fit for the Coyotes.
The Penguins apparently had some level of interest in re-signing Sullivan but seemed to have everything on the back-burner waiting for a decision from free agent forward Zach Parise. Sullivan's agent told Josh Yohe of the Tribune-Review that they had to move on and couldn't wait forever.
Meanwhile, Penguins general manager Ray Shero said on Wednesday that the team decided on Tuesday that they would not re-sign Sullivan.
Photo: Getty Images
For more hockey news, rumors and analysis, follow @EyeOnHockey and @agretz on Twitter and like us on Facebook.