Coyotes' Brett MacLean reportedly 'doing well and his condition is improving'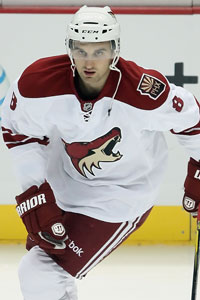 MacLean has 2 goals, 3 assists in 18 career NHL games. (Getty Images)
Phoenix Coyotes forward Brett MacLean remains in the hospital after suffering a cardiac emergency on July 2. That's the bad news. The good news is that his condition continues to improve.
The Coyotes have been updating their fans and the media on MacLean's situation through short team-released statements. The one sent out on Monday is certainly inspiring.
"We have been in contact with Brett's family and the hospital over the past week and the reports are that he is doing well and his condition is improving. Brett will continue to undergo tests with the cardiology team at University Hospital in London, Ontario."
After what the NHL went through last summer, it would be great for hockey to avoid further such pain. It's terrific news to hear that MacLean is doing better.
And, that's not the only inspiring bit of news to come out of this awful story in the last few days. Puck Daddy put together a look of how MacLean's teammates saved his life. It led to MacLean tweeting the following over the weekend.
"Great to see Jason Silverthorn today. I owe a lot to him Jason Gallagher and Jay Forslund. They helped save my life. Thank you. Slowly starting to feel better. Thank you to all the paramedics doctors and nurses who haves helped me get this far. Feeling very lucky. Also thank you to everyone for the support and well wishes. Truly means a lot to me and my family through this tough time.

"It's crazy how quickly things can change. Make sure you don't take life for granted and always make time for things you enjoy."
Great advice.
For more hockey news, rumors and analysis, follow @EyeOnHockey and @BrianStubitsNHL on Twitter and like us on Facebook.