Kyle Wellwood signs new one-year deal with Winnipeg Jets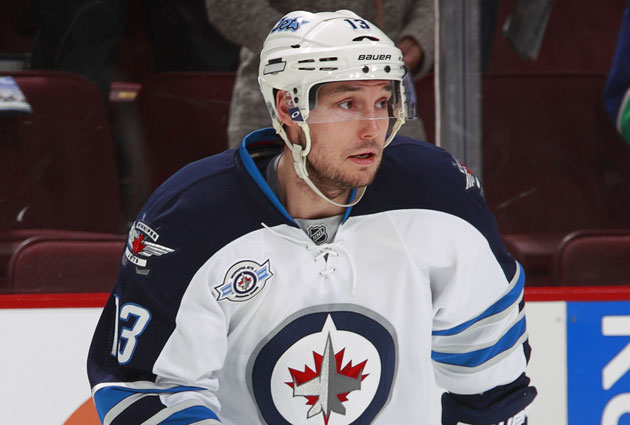 Kyle Wellwood was fifth on the Jets with 47 points last season. (Getty Images)
After a career year, Kyle Wellwood has elected to have another go at it with the Winnipeg Jets. The two sides reached a new deal for another season that comes with a little more than a 50 percent raise to $1.6 million, according to Darren Dreger of TSN.
Wellwood enjoyed the best season of his career last year, his first with the Jets/Thrashers franchise. The player who was once chased out of Toronto on waivers and criticized heavily (get it?) for his weight had a breakthrough campaign with the Jets at 29, scoring 18 goals with 29 assists for a career best 47 points in 77 games.
2012 NHL Free Agency
More NHL coverage
More than that, Wellwood proved he's a valuable player with the Jets. Taking a quick look at some of the advanced metrics, Wellwood had a 15.8 Corsi Relative this year, second among Jets who played at least 10 games (behind only Andrew Ladd). Basically that means that when Wellwood is on the ice the Jets are playing much better than when he's off, getting the majority of the shots.
All things considered, it's a solid deal for the Jets. At one year and $1.6 million, they aren't taking a risk at all with this signing, and if they get the same or even better production from Wellwood next season it turns into a really good-looking deal.
It does come as a bit of a surprise to me that Wellwood wasn't able to get a little more term or money. His services, especially on a very thin center market, seemed like they would be welcome in a few other cities, especially at that low price tag.
In the end, though, he made the decision that seems to make the most sense. Why ruin it when you have a good thing going? Obviously, the Jets and Wellwood benefitted from uniting last season, so why not go for another go-round?
The sad part, though, is that the Flyers missed a chance for another brother tandem to join their Luke Schenn and Brayden Schenn. Kyle's brother Eric Wellwood is with Philly.
For more hockey news, rumors and analysis, follow @EyeOnHockey and @BrianStubitsNHL on Twitter and like us on Facebook.