Jets confirm Ondrej Pavelec DUI, Winnipeg goalie apologizes in statement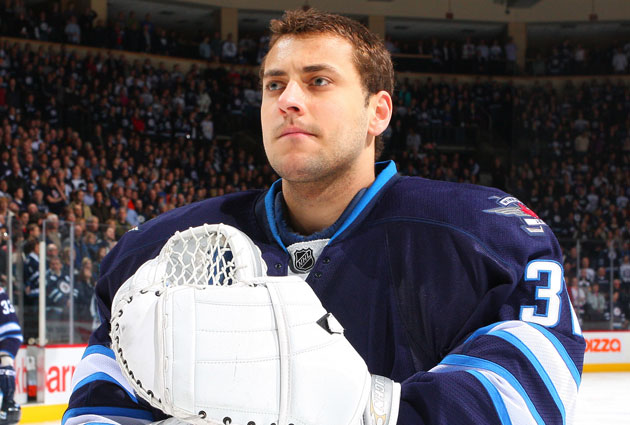 Ondrej Pavelec turned down KHL overtures to return to the Jets this summer. (Getty Images)
On Monday a report surfaced out of the Czech Republic that Winnipeg Jets goaltender Ondrej Pavelec had been cited with driving under the influence. The Jets were unable to confirm or deny and the details of the entire situation were not clear.
On Tuesday the Jets were able to confirm the reports and issued a statement including Pavelec's own description of the incident and apology.
The Winnipeg Jets Hockey Club would like to state we have now confirmed the details surrounding Ondrej Pavelec while driving under the influence in Kladno, Czech Republic on May 26, 2012. The organization was deeply disappointed to learn of this information yesterday and is fully aware of the seriousness of this matter. We will determine our course of action once we have the chance to meet and discuss with Ondrej in person, which we expect to do at the earliest possible opportunity.

In the interim, Ondrej would like to issue the following personal statement:

"On May 26, 2012, I was involved in a traffic accident in the Czech Republic. There were no injuries. Police arrived at the scene and I agreed to a blood alcohol test. On June 12, my attorney appeared in court on my behalf and submitted a plea of guilty at the first proceeding. The court issued a six month suspended sentence and suspended my driver's license for 20 months in the Czech Republic. The case will be dismissed in 12 months provided I have no alcohol related violations during this time. I'm disappointed in myself for this error in judgment. I'm thankful no one was injured as a result of my actions. I want to sincerely apologize to our fans, the Winnipeg Jets organization, and to my teammates for any embarrassment this has caused. I'm truly sorry for letting you all down."
We probably won't hear about if for a while, especially with the labor unrest at the moment, but it will be interesting to see what kind of punishment the Jets hand down. They say in the statement they will meet with Pavelec at a later time to discuss that issue. They're backup goaltender at this point would appear to be Al Montoya, who they signed to a one-year contract this summer.
Pavelec recently signed a five-year extension with the Jets that will pay him $19 million. He was 29-28-9 with a .906 save percentage in 68 games last season. He was originally a second-round draft pick by the Thrashers in 2005 (No. 41 overall) before the team moved to Winnipeg.
For more hockey news, rumors and analysis, follow @EyeOnHockey and @BrianStubitsNHL on Twitter and like us on Facebook.