Oilers reach new deal with Sam Gagner for one year, $3.2 million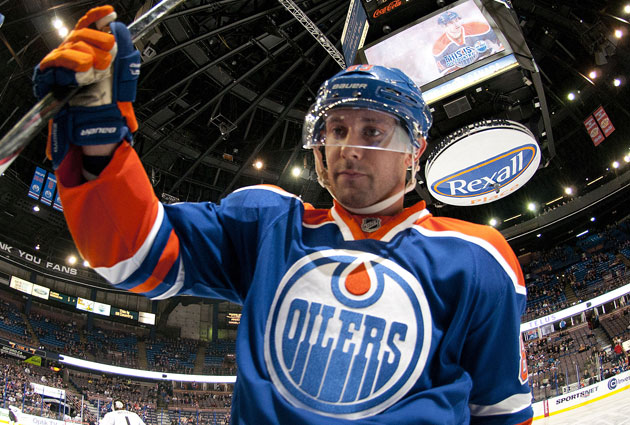 Sam Gagner had 47 points last season, second most in a season in his career. (Getty Images)
Sam Gagner of the Edmonton Oilers avoided arbitration on Friday morning by reaching a contract extension.
Gagner, he of the famous eight-point game this past season, was signed for one season at $3.2 million. The Oilers made that announcement on Friday morning, one of the few (and appreciated) teams that release details of the contract.
"I'm really excited to get this over with," Gagner said after the signing. "Arbitration is something you want to avoid if you can."
Gagner was one of the more interesting RFA negotiations that had stalled to me. He has been consistent through the first five years of his career with the Oilers putting up between 41 and 49 in each season -- 47 this season. Plus, he's still only 22 so you figure he is still on the way up.
However there was a growing sense that he wasn't living up to the expectations and there was talk that he could be a trade target out of Edmonton. Then he had that massive game and all of a sudden the Oilers had somebody they couldn't really trade, not after that.
"There's an opportunity to stay here long-term," Gagner said. "I need to have another good year and continue to solidify myself as a good NHL player.
"There has to be pressure on everyone. We need that internal drive where we're trying to get better and push each other to new heights."
The deal comes in at a good value in my opinion but I thought Gagner might get a little more. As they would have done if the two sides had gone to an arbitration hearing, comparable players would have been presented. A pretty solid comparable is David Perron of the Blues who just signed a four-year contract at $3.8125 million per season, Gagner comes in at a little more than half-a-million less.
The deal is also just a one-year contract so they can reassess to see if he's advancing the way they hope/expect and re-evaluate. The Oilers would still have control as Gagner would still be a restricted free agent if it came to that next summer.
Gagner will turn 23 before the start of next season, making him more or less a grizzled veteran in Edmonton.
For more hockey news, rumors and analysis, follow @EyeOnHockey and @BrianStubitsNHL on Twitter and like us on Facebook.