Dustin Byfuglien's boating while impaired charge dropped; pleads to misdemeanor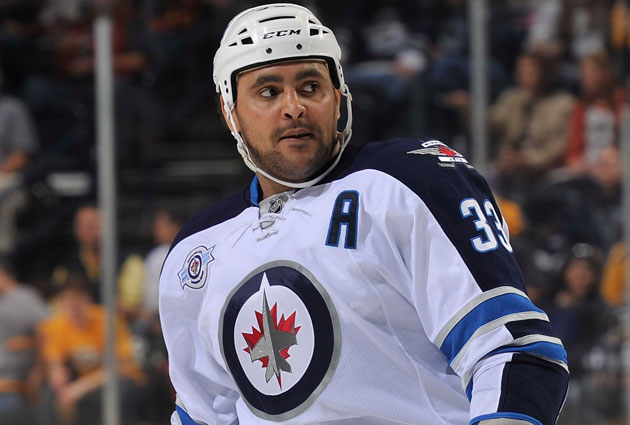 Dustin Byfuglien was charged with boating under the influence last August. (Getty Images)
Dustin Byfuglien no longer faces up to a year in jail for charges that he was operating a boat while impaired last summer in Minnesota. That charge was dropped on Monday when Byfuglien pleaded guilty to careless boating, which is a misdemeanor.
The careless boating charge is pinned to him for not having proper lightning on his boat, of all things. That was the reason his boat was initially stopped.
The Winnipeg Free Press has details on what Byfuglien faces with the misdemeanor charge.
Byfuglien is getting a $1,000 fine and a 30-day sentence, with 28 of those days suspended.

As part of his sentence he must do "workhouse," work that might involve duties such as picking up garbage. The judge said it`s important Byfuglien be treated the "same as everyone else".
This all goes back to last summer when Byfuglien was having a good time on Lake Minnetonka unitl he was arrested under the suspicion of boating while impaired. He refused to take a blood or urine test that day.
Shortly after the proceedings in Minnesota, Jets GM Kevin Cheveldayoff released the following statement from the team.
"After allowing the legal process to play out, we are thankful to see this matter resolved to the satisfaction of all parties involved. As an organization, the Winnipeg Jets are happy this is behind Dustin and he can look forward to the upcoming hockey season, along with the rest of the team and their passionate fan base."
If you happen to be in Minnesota this summer and see a massive human being on the side of the road picking up litter, take a second look. It might be a certain Winnipeg Jets defenseman.
Let this be a lesson to all those kids out there ... make sure you have the proper lights on your boat.
Byfuglien had 12 goals and 41 assists last season for the Jets. It was his second season with the franchise after being traded out of Chicago in a salary-shedding move after the Blackhawks won the Stanley Cup.
For more hockey news, rumors and analysis, follow @EyeOnHockey and @BrianStubitsNHL on Twitter and like us on Facebook.